T.J. Miller Goes Full Comedy Star For Road To Nardo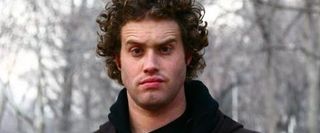 T.J. Miller's most recent acting credit is Yogi Bear, so you can't blame the guy for working over time to come up with something else to add to it. Now he's in negotiations for a part that THR says will be a "breakthrough" for him, playing one of two leads in the upcoming comedy Road to Nowhere. Scot Armstrong, whose writing credits include The Hangover Part II, Old School and Road Trip, will make his directorial debut with the project. Miller plays the more slacker-ish of the pair of guys at the center of the film, who spring into action when their pal Nardo is left "naked and stranded in Mexico."
The buddy, of course, is a "more upwardly mobile roommate," so basically think younger versions of Zach Galifianakis and Ed Helms in The Hangover, sent on a road trip to Mexico. To be fair to Armstrong, this is fairly ancient and evergreen comedy material-- The Odd Couple did it, and hell, so did Road Trip. And really, in the wake of The Hangover Part II I'm grateful that any original comedy script is getting made, even if it trods pretty well-worn territory. Plus I like Miller, having had supporting roles in Cloverfield and She's Out Of My League; he's well overdue for his shot at serious comedy stardom. I'm hoping the guy who gets cast as at the opposite straight man, not to mention Nardo, is someone equally deserving.
Staff Writer at CinemaBlend
Your Daily Blend of Entertainment News
Thank you for signing up to CinemaBlend. You will receive a verification email shortly.
There was a problem. Please refresh the page and try again.