Target Has To Apologize For Carrying Controversial Star Wars: The Force Awakens Toys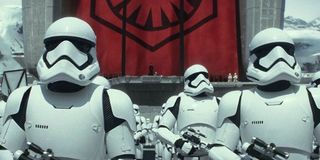 Target has been forced to apologize after the release of a new batch of Star Wars: The Force Awakens toys instantly drew comparisons to a certain sex toy. The phallic objects were aimed towards children, even though they were described as "sculpted dive sticks." What is a "sculpted dive stick"? Well, they're something that you swim with. However, they also look like dildos.
After a customer took to Facebook to complain, a spokesperson for Target released a statement apologising for the rather bizarre swimming apparatus. One parent asked, "Are we sure these are children's toys, Target? Looks a little questionable to me." What's all the fuss about? Take a look at the offending items below and see for yourself.
After noticing this complaint, Target's spokesperson replied with:
Now that's a meeting that I'd love to be a fly on the wall for.
The above interaction has since been deleted, but it was screengrabbed and saved by Pop Goes The News. As you can imagine, the internet soon started to have a field day with the release of these toys. In fact, one particularly disturbing image caught my eye as I perused responses.
That's the kind of image that you can never un-see. This isn't the first time that Target has found themselves embroiled in controversy over Star Wars items. Last year, the retailer caused a huge controversy when they replaced Princess Leia with Luke Skywalker on a t-shirt depicting a classic scene from Star Wars: A New Hope. There was a huge outcry over the lack of figurines for Daisy Ridley's Rey around the release of Star Wars: The Force Awakens too. This is probably a step too far trying to rectify that oversight though.
Your Daily Blend of Entertainment News
Thank you for signing up to CinemaBlend. You will receive a verification email shortly.
There was a problem. Please refresh the page and try again.