Teenage Mutant Ninja Turtles Is Bringing Back An Old Favorite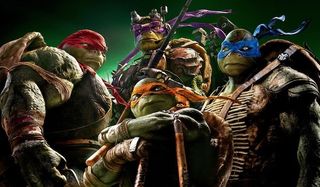 Last summer, Teenage Mutant Ninja Turtles was full of familiar characters, but it was a new look for the Heroes in a Half Shell, as well as the likes of April O'Neil, Vernon Fenwick, and Shredder, one that didn't always sit well with longtime devotees. Well, fans of the earlier movies now have something to look forward to as the original live-action April O'Neil is coming back to make an appearance in Teenage Mutant Ninja Turtles 2: Half Shell.
Judith Hoag, who played April O'Neil in the 1990 Teenage Mutant Ninja Turtles, has been spotted on the set of the New York-based set. There are photos of her with Megan Fox, who plays April in the rebooted franchise, floating around if you care to find them, but as they're unofficial, we're not going to touch them here.
For her part, however, Hoag has spent the last couple of days teasing a return to the franchise via Twitter. For instance, she sent this out into the world recently:
But that wasn't all, as she went on to tease:
I wonder what she could possibly mean by "three out of four," don't you?
Hoag only played April O'Neil the one time—she was replaced by Paige Turco in the two subsequent films, Teenage Mutant Ninja Turtles 2: Secret of the Ooze, and the third movie, where they travel back in time to ancient Japan—but for many of a certain generation, she is the definitive April O'Neil. At least as far as live-action characters go. From all appearances, Hoag's role isn't particularly huge, and it's likely more of a cameo than anything else, something for fans to clap their hands and get excited about when they recognize her.
In addition to Hoag, there are a bunch more new additions to the franchise in Half Shell. Arrow's Stephen Amell is set to show up as fan-favorite vigilante and Turtle ally Casey Jones, who fights crime with a hockey mask and variety of sports-themed weapons he carries in a golf bag. Mutated henchmen Rocksteady and Bebop will also reportedly make their presence known in the new cinematic adaptation, and the cast will see a new Shredder (Brian Tee), a handful of NBA players, Tyler Perry, and Academy Award-nominee Laura Linney. Strange things are certainly afoot in this movie.
When it was released last August, Teenage Mutant Ninja Turtles was hit pretty hard by critics, though it made more than enough money that Paramount gave the sequel the green light before the first weekend was even over. The directorial reins have been handed over to Dave Green, who helmed the younger audience-skewing, found footage sci-fi flick Earth to Echo. This is only his second time leading a feature-length motion picture, so it remains to be seen how he'll do. My hope is that there will be more Turtles, weird looking as they are, and way less April O'Neil.
Teenage Mutant Ninja Turtles 2: Half Shell hits theaters June 3, 2016.
Your Daily Blend of Entertainment News
Your Daily Blend of Entertainment News
Thank you for signing up to CinemaBlend. You will receive a verification email shortly.
There was a problem. Please refresh the page and try again.