Terminator 5: What We Know So Far About Genisys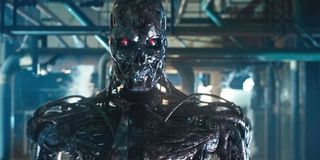 The Terminator movies are certainly considered one of the best sci-fi movie franchises ever, but the series hit a serious speed bump in 2009. The McG-directed Terminator Salvation cost an incredibly expensive $200 million, and not only failed to open at number one on its opening weekend (losing to Night at the Museum: Battle of the Smithsonian), but only wound up making $125 million domestically. After years of the rights being bounced around between owners, the franchise finally is ready to get going again with Terminator 5, a.k.a. Terminator: Genisys.
Paramount Pictures has dated the next chapter in the series for July 1, 2015, but what can we expect from the movie? Which characters from previous movies are coming back? Who is starring? Read on to find out what we know so far!
The Director
Alan Taylor has spent years working on the small screen, his work on HBO shows like Game of Thrones, The Sopranos and Sex and the City providing many of the highlights in his filmography. In 2013, however, Taylor managed to completely change his profile. The director was hired by Marvel Studios to helm their big blockbuster Thor: The Dark World, and apparently the job agreed with him. Terminator: Genesis will be Taylor's second big budget action movie, and yet another chance to solidify his presence in the feature world.
T-800
One might wonder how Arnold Schwarzenegger – at the ripe old age of 66 years old – will be able to play a perfect human-looking robot, but that's exactly what he's doing in Terminator: Genesis. With the exception of Terminator Salvation (which had an Arnie CGI creation), the former body builder has been in every film in the franchise, and the next movie will continue that tradition. As for why T-800 looks so much older than he previously has, Schwarzenegger has explained that while the robot underneath is in pristine condition, the human skin he is wrapped in does age. Also, according to recent reports, the Terminator that Schwarzenegger is playing in Genisys might be… the father to Sarah Connor? She even calls him "Pops." This sequel could get weird. The film will also feature a second, younger T-800 who the Austrian star eventually gets reprogramed (presumably repeating the cycle of what happened between Terminator and T2: Judgment Day.
Sarah Connor
While she was one of the main characters on the television series Terminator: The Sarah Connor Chronicles, Sarah Connor hasn't actually been featured in a Terminator movie since T2. She will finally be making her way back on to the big screen in Terminator: Genisys, however. Emilia Clarke, who previously worked with director Alan Taylor on Game of Thrones, will be playing the latest version of the ass-kicking heroine, previously portrayed by both Linda Hamilton and Lena Headey. We're not entirely sure what generation of Sarah we will be seeing, be it the butch badass machine killing one or the "Holy shit, what the hell is going on" one (I'm betting on the former). Plus, look at that scream, in the photo above!
Next up, everything we know about John Connor in Terminator: Genisys...
John Connor
Surely it's not lost on the filmmakers behind Terminator: Genisys that they have hired two actors named "Clarke" to play two characters named "Connor," but it's hard to argue with the talent they've enlisted. Joining Emilia Clarke's Sarah Connor as John Connor is Jason Clarke, the Australian actor who first dropped audience's jaws with his performance in Kathryn Bigelow's Zero Dark Thirty. He also recently held his own alongside Andy Serkis in the riveting Dawn of the Planet of the Apes. At this time you may notice that Jason Clarke is actually considerably older than the actress who is playing his mother, but that can easily be explained away by the fact that the Terminator franchise is all about time travel. Also, from what we are hearing, John Connor will appear in the early scenes of the film, set during the War Against Skynet. He'll likely send a Terminator back to save his mom – again – allowing Genisys to somehow cross time streams with James Cameron's original film. Yes, our minds are sufficiently blown.
Kyle Reese
Jai Courtney has already played a part in one of the great 1980s franchises, having played John McClane's son in A Good Day To Die Hard, but now he is getting his second chance playing Kyle Reese in Terminator: Genisys. Reese, of course, was the heroic human robot fighter sent back in time to both protect Sarah Connor and become John Connor's father. He was first played by Michael Biehn in James Cameron's Terminator movies, and Anton Yelchin resurrected the character in Terminator Salvation. It's not clear yet what role Reese will be playing in Terminator: Genisys, but we imagine that it's a considerable one. Also, look at his screaming O-face! Why is this a common theme in this sequel? We need to see a trailer, and soon, because these promo images aren't cutting it.
Danny Dyson
What's that? You don't remember Danny Dyson? Honestly, I can't blame you. After all, the character only appeared in James Cameron's T2: Judgment Day and played only a very, very small part. For those of you who aren't Terminator super experts, Danny Dyson is the son of Miles Dyson, the executive at Cyberdyne who unwittingly starts the robot apocalypse. We can't say what role he will have in Terminator: Genisys exactly, but he will be played by Dayo Okeniyi, who you may recognize from his role as Thresh in the first Hunger Games movie.
The Rest Of The Cast
It would appear that Terminator: Genisys will be reuniting a whole bunch of recognizable characters from the sci-fi franchise, but it sounds like there are going to be some new faces as well. First up, there's J.K. Simmons, who will be playing a "weary, alcoholic detective" who has been following Sarah Connor's trail for years and years. The other two newcomers, however, remain complete mysteries. Both G.I. Joe: Retaliation's Byung Hun Lee and Doctor Who's Matt Smith have officially boarded the blockbuster sequel, but Paramount Pictures and Skydance have not yet revealed who they will be playing. Could one or both of them end up being robots sent back in time to kill John Connor? We'll have to wait and see.
The Story
It was in January 2013 when Terminator: Genisys became an actual in-development reality. It was back then that Paramount and Skydance hired Laeta Kalogridis & Patrick Lussier to co-write the next chapter of the Terminator franchise. While we don't really know anything about the film's plot just yet, despite a few rumors sprinkled here and there, we do know that it will be the first movie in a trilogy. From what we have been able to tell, it will involve another Terminator being sent back from the future. Only, the scraps of information we have picked up suggest that it will land in an alternate timeline, where Sarah Connor is being raised by a T-800, and is more of a "highly trained, antisocial recluse, who's great with a sniper rifle but not so skilled at the nuances of human emotion." Oh, yeah, and this one will likely be PG-13.
Look, at this stage, we're a little concerned about this Terminator relaunch. A trailer filled with stimulating footage could sway us back to the movie's side. Until then… did we mention the O-face?
NJ native who calls LA home; lives in a Dreamatorium. A decade-plus CinemaBlend veteran; endlessly enthusiastic about the career he's dreamt of since seventh grade.
Your Daily Blend of Entertainment News
Thank you for signing up to CinemaBlend. You will receive a verification email shortly.
There was a problem. Please refresh the page and try again.