The Terminator Franchise Is Dead Once Again, Here's The Latest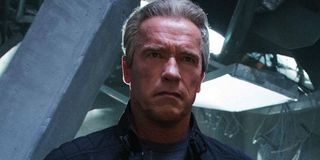 It has not been a particularly easy time for the Terminator franchise. Last summer, the latest attempt to reboot the robot-themed time travel saga, Terminator: Genisys, flopped with both fans and critics (our reviewer, however, rather adored it). Though it ultimately made a decent amount of money, thanks largely to international markets, questions about the future have swirled ever since, but as of now, it looks like the franchise is dead for the time being.
Terminator: Genisys was always envisioned as the start of a new trilogy, one that rewrites the timeline even further. The sequel was originally penciled in for May 19, 2017, but according to The Hollywood Reporter, Paramount and Skydance Pictures have pulled Terminator: Genisys 2, and that slot will now be filled by the Dwayne "The Rock" Johnson and Zac Efron-fronted Baywatch.
This doesn't bode well for the future of Terminator movies, especially at Paramount, as the rights to the franchise reportedly revert back to creator James Cameron in 2019. And with umpteen Avatar sequels in the works to keep him busy, there's no telling when he might have time to work on Terminator, or if he's even interested.
While this is sure to disappoint some fans, ultimately the move to pull Terminator: Genisys 2 isn't much of a surprise. Though the first film did wind up grossing $440 million worldwide, only $89 million came from the domestic market, where it face-planted right out of the gate. And with a reported $155 million budget, not to mention a massive global marketing push, in reality, Genisys may not even have recouped the studio's investment.
The original plan, had Terminator: Genisys proven to be a box office success, was to film two follow ups back-to-back for release in 2017 and 2018, though it doesn't appear that's going to happen now. Paramount could always add the next Terminator movie in another slot, likely at a later date if that does happen, but if they do decide to move forward, they have some serious work to do to right the ship. But this is a series that still has quite a bit of global name recognition, so you can never fully count it out.
While Paramount doesn't seem too excited about the prospects of a continuing Terminator franchise at the moment, they do appear to be psyched on the potential for Baywatch. Not only is May 19, 2017 a prime release slot, but it features a couple of big stars in Dwayne Johnson and Zac Efron. In relative terms, it will likely be much cheaper to produce than your average summer blockbuster spectacle. As the series showed, putting attractive people in skimpy outfits and having them run down the beach in slow motion ups your production value exponentially, and they're likely hoping to ride that wave onto the big screen.
Your Daily Blend of Entertainment News