The Baywatch Movie Just Cast Dwayne Johnson's Girlfriend And You Have To Check Her Out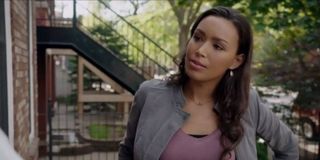 Dwayne Johnson has worked tirelessly to get the Baywatch remake greenlit. Not only is the former wrestler now bona-fide action star taking one of the lead roles in Baywatch, but he's also on board as a producer too. Over the last few weeks, Jonson has been on the hunt for the role of his girlfriend, and he's now confirmed that they've found the right woman for the part, revealing that Ilfenesh Hadera has joined Baywatch's cast.
Like any modern man, Dwayne Johnson took to Instagram to confirm this news, with a lengthy post that is full of quips that only the golden-tongued actor could come out of with. Enjoy it below.
There wasn't much competition, but the hashtag #SandSquadUpInThisBitch has instantly become the best thing I've ever seen on social media. Kudos, Mr Johnson. Kudos.
While Ilfenesh Hadera is far from a household name, her recent exploits on the small and big screen suggest that she is a worthy addition to the Baywatch posse. Currently starring in Billions, Hadera has also appeared in Spike Lee's Oldboy, as well as his most recent film, Chi-Raq. On the small screen she was cast in NBC's Chicago Fire, while she also made the leap over to cable with HBO's Show Me A Hero too.
Plus, as Dwayne Johnson so eloquently put it, Ilfenesh Hadera has all the qualities to excel as Baywatch's Stef, insisting that she's funny, beautiful, strong, intelligent, and formidable, while he also made sure to threaten his co-star Zac Efron as well.
Baywatch has taken surprisingly good shape in recent weeks, and even though it was previously assumed that a Dwayne Johnson led reboot of the beloved 1990s television series about California lifeguards would be abhorrent, I am actually hopeful it will be worthwhile.
Before Christmas, we already knew that Dwayne Johnson and Zac Efron would be leading the way. This duo has both proven in recent years just how impressive they can be on screen across a number of genres, so their role as dual leads makes perfect sense. If you don't get it, it has something to do with their muscles. Dwayne Johnson's San Andreas co-star Alexandra Daddario soon joined up, while earlier this month it was confirmed that Kelly Rohrbach would take the role of C.J. Parker, who was iconically played by Pamela Anderson in the original series.
But it's the addition of Seth Gordon as Baywatch's director that truly has me thinking it will work. Having directed The King Of Kong: A Fistful Of Quarters, Horrible Bosses, and Identity Theft, Gordon is well adept at creating flowing comedies that take advantage of strong ensembles. Can he work the same magic on Baywatch? It remains to be seen, but the cast he has at his disposal suggests it's possible.
In Baywatch, Dwayne Johnson leads an elite team of lifeguards who is forced to team up with Zac Efron's former Olympian in order to save their beloved bay. Production is due to begin later this year, with Baywatch's release sometime in 2017.
Your Daily Blend of Entertainment News
Thank you for signing up to CinemaBlend. You will receive a verification email shortly.
There was a problem. Please refresh the page and try again.