The Baywatch Movie Just Found Someone To Fill Pamela Anderson's Swimsuit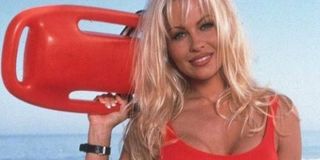 The Baywatch movie has taken another giant step forward with the announcement that Kelly Rohrbach is going to star alongside Dwayne Johnson and Zac Efron in the adaptation of the beloved 1990s television show. But what makes the news even more revelatory is that the swimsuit model has been chosen to fill Pamela Anderson's bikini, as Rohrbach has been cast as none other than C.J. Parker.
Those that watched Baywatch's run between 1989 and 1999 will be very much aware that Pamela Anderson portrayed the character C.J. Parker for five of those years. Not only did this role turn the model into a world renowned figure, but it boosted Baywatch's appeal abroad, too, which is why it was such a big deal to find the perfect individual to bring the character to life again according to The Hollywood Reporter.
So why did Kelly Rohrbach win the part? Well, her IMDb page proves that she's rather inexperienced when it comes to acting. In fact, she's only made a handful of appearances on various television shows. But that's probably all about to change.
Not only is Rorhbach now in Baywatch, but she also has a role in the still untitled Woody Allen project alongside Kristen Stewart, Steve Carell, and Jesse Eisenberg that is due out later this year, which proves that she must be doing something right and catching the right eyes. The fact that she was named Sports Illustrated Swimsuit Rookie Of The Year for 2015 also probably gives you a good idea of why she was cast in these roles.
It didn't take long for Kelly Rohrbach to prove that she'll get along swimmingly with her Baywatch co-stars. Dwayne Johnson, who has taken a very large role in the adaptation, confirmed her arrival to the team by taking to Instagram and uploading a video of Rohrbach and himself doing the famous slow-motion run that regularly popped up in the original series. And like pretty much everything that The Rock uploads to his social media pages, it deserves at least one watch.
There's nothing like a bit of gentle, physical abuse to integrate a new cast member into the team. Obviously, I kid. It's still rather hard to know what to make of Baywatch. The fact that it's a remake of the ridiculous, cheesy, and sickly melodramatic television show means that it should be terrible. But as we are all well aware by now, Dwayne Johnson and Zac Efron are both hugely watchable, as is Johnson's San Andreas co-star Alexandra Daddario. Plus, comedy legend Ivan Reitman is producing, while Horrible Bosses and The King Of Kong: A Fistful Of Quarters' Seth Gordon is directing. Which suggests that Baywatch might actually be funny. We'll finally know if that's actually the case when Baywatch is released at some point in 2017.
Your Daily Blend of Entertainment News