Tim Allen And Tom Hanks To Star In Disney's Jungle Cruise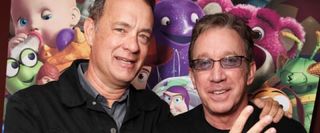 They may be done playing Buzz and Woody for good, but Tim Allen and Tom Hanks aren't quite finished teaming up to make money for Disney. THR reports that the two will star together in Jungle Cruise, the studio's live-action adaptation of their own theme park ride that's been in development ever since Pirates of the Caribbean proved this kind of adaptation was even possible.
Allen will play the guide of the titular cruise, while Hanks will play a "family guy" who is presumably along for the journey with his kids. David Hoberman and Troy Lieberman are still on board as producers, and now have the big hit The Fighter behind them, and now Roger S.H. Schulman has been hired to write a new draft of the script. Between the fourth Pirates film this summer, the Guillermo del Toro-produced Haunted Mansion movie and Jon Favreau's Magic Kingdom, Disney is moving full steam ahead on their efforts to mine even more cash out of their theme parks.
What I really wonder is what inspired them to pair Hanks and Allen together again, and if they think that the voices of Buzz and Woody will really be enough to make them a box office draw. Hanks is still fairly successful, but Allen hasn't had a non-Toy Story hit since 2007's depressingly popular Wild Hogs. It's an interesting gambit for Disney to cast two veterans in the leads, and not go for someone younger and more famous like Johnny Depp, but then again, this is a concept movie-- the title sells itself.
Your Daily Blend of Entertainment News
Staff Writer at CinemaBlend