Tim Burton Bails On The Angelina Jolie Maleficent Movie; Could David Yates Replace Him?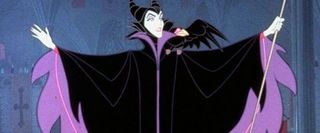 Tim Burton has been developing a bunch of projects at Disney ever since he made them a boatload of money with Alice in Wonderland; he has a feature-length remake of his 1984 short Frankenweenie coming next October, and until today he was also developing Maleficent, a villain-focused spin on the classic Sleeping Beauty story that would star Angelina Jolie. THR has reported that Burton has dropped the project, despite the fact that his Alice in Wonderland writer Linda Woolverton has adapted the screenplay and Jolie is apparently still attached.
The studio isn't giving up on the project, and is apparently already eyeing Harry Potter veteran David Yates to take over. We heard back in March that Yates was talking to Warner Bros. about making an Al Capone biopic next, but Maleficent would be a much bigger and higher-profile project, and one that Disney is presumably anxious to make while they've still got Jolie on board. I don't know how Yates could possibly make four Harry Potter films in a row and then be ready to tackle something as big as Maleficent, but if he hasn't been much for vacations in the last few years, why start now?
Staff Writer at CinemaBlend
Your Daily Blend of Entertainment News
Thank you for signing up to CinemaBlend. You will receive a verification email shortly.
There was a problem. Please refresh the page and try again.