Tim Burton Involved In The Beetlejuice Sequel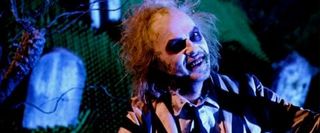 Before Tim Burton made Johnny Depp his go-to leading man, his recurring star was '80s everyman Michael Keaton. Together the pair made two darkly fun Batman movies, and the delightfully demented poltergeist comedy Beetlejuice in which Keaton famously played the eponymous "ghost with the most." Keaton's game goofiness and aloof appeal easily made him a fan favorite. So when word got out that Pride and Prejudice and Zombies author Seth Grahame-Smith was developing a sequel to the 1988 adventure, there was a less-than-shocking outcry. Cinema Blend's own Eric Eisenberg surmised the feelings of Beetlejuice devotees succinctly, saying, "if they do move forward with the sequel, let's hope that they can bring back Michael Keaton, Winona Ryder and Tim Burton. It simply can't be done without them."
Thankfully, this sentiment was largely echoed by Grahame-Smith and his producing partner David Katzenberg, who assured anxious fans no sequel would be made unless the script met with the approval of Burton, and unless it starred—not featured with a lame cameo appearance, but starred—Michael Keaton. Grahame-Smith has insisted Keaton's involvement would be key as the premise he's dabbling with is, "a true continuation 26 years later." As to what this bad boy of the afterlife is up to 26 years A.D. (After Deetzes), that remains to be seen. However, MTV has revealed that Grahame-Smith, who scripted Burton's soon-to-hit Dark Shadows adaptation, has discussed a Beetlejuice sequel with Burton, who expressed enthusiasm about the project, saying:
As Burton has been revisiting his past works lately, adapting his 1984 short "Frankenweenie" into a full-length feature, it seems a good possibility that he'd be willing to return to the world of gargantuan sand worms and prison-striped formal wear. When pressed for details on a possible plotline, Burton replied he hasn't seen a script, but he feels confident Keaton would nail his reprisal, "Michael was so great in it. I'm sure he'd strangely tap right back into it."
As someone who has long lamented Keaton's absence from the spotlight, I have to say I'd love to see a Beetlejuice sequel if only to watch Keaton in a leading role once again. As far as Grahame-Smith is concerned, it's too soon to say how his interpretation of the could-be franchise would turn out. After the surprise success of his cheeky take on Jane Austen—which is actually pretty clever in its execution despite an annoyingly low reading level—he got his first chance to script a screenplay, adapting his historical-fantasy novel Abraham Lincoln: Vampire Hunter, which Burton's producing. This star-studded romp and Burton's Dark Shadows are both slated to open later this year, and their successes or failures could determine whether or not Beetlejuice will score a second life.
Your Daily Blend of Entertainment News
Staff writer at CinemaBlend.