Tippi Hedren Admits She's Apprehensive About The Birds Movie With Sienna Miller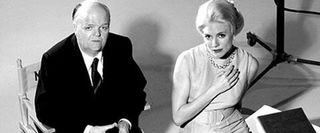 Though Alfred Hitchcock and the Making of Psycho is the Hitchcock-centric project making headlines right now, we've also got The Girl coming up, which focuses on the filmmaker's notoriously tumultuous relationship with The Birds' star, Tippi Hedren. Hitchcock is long gone, so clearly star Toby Jones won't be able to collaborate with his real-life counterpart, but Sienna Miller has had the pleasure of working with Hedren.
While promoting Free Samples at the Tribeca Film Festival, Hedren elaborated on the production. "It is a very exciting thing that's going on." She continued, "To have a movie made about you is pretty scary." She joked, "Because I'm still alive!"
But Hedren also has a number of concerns, which you can see int he video below. "The thing that really bothered me is the director, [Julian Jarrold], didn't want to have any kind of meetings with me." She added, "I'm rather offended by that."
On the bright side, Hedren's experience working with Miller has been a pleasure. "A meeting with Sienna was just absolutely fabulous." Hedren recalled, "She came to the Shambala Preserve where I live and we had a couple of hours in order to talk." Hedren wanted to ensure that Miller understood "why this whole horrible situation happened with Alfred Hitchcock," something Hedren blames on her personal values and her understanding of what's right and wrong.
Hedren also mentioned that Miller would call her during shooting to keep her updated on the state of the production. Unfortunately, that's where some trouble cropped up. "[Sienna] said that she was fearful that the director wasn't letting her be as strong as I was during that time." Hedren lamented, "I'm apprehensive about seeing the film and a little bit nervous about it."
While we wait for The Girl to arrive, keep an eye out for our full interview with Hedren and director Jay Gammill on their Tribeca Film festival entry, Free Samples.
Your Daily Blend of Entertainment News
Staff Writer for CinemaBlend.