Tom Cruise's One Shot Gets A New Title, First Footage Previewed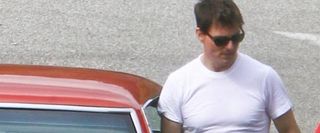 When it was announced last year that Tom Cruise would be playing Jack Reacher in an adaptation of Lee Child's One Shot it caused an uproar. As described in the book, Reacher is a giant of a man, standing at 6'5" and weighing around 250 pounds. Tom Cruise – who is famous for being only 5'7" – doesn't exactly fit the character in that sense. Now, however, the first footage from the movie has been shown and it turns out that Cruise might just pull it off.
I am currently in Las Vegas covering the annual convention known as CinemaCon, and tonight, during a presentation of Paramount Pictures' upcoming slate, I got a first-hand look at the Lee Child adaptation. The footage was introduced by a video of Tom Cruise, who is currently in production of Joseph Kosinski's Oblivion and he began by addressing concerns about his stature, saying that he was the personal choice of Child because he can "Drive fast and kick the shit out of people on screen." Also interesting is that the actor didn't refer to the movie as One Shot, but rather as Jack Reacher. While it may have been an off-the-cuff reference to the film, it's worth noting that it wasn't referenced as One Shot during the entire presentation. This could mean that Jack Reacher is just a working title, but it would seem that the movie is no longer going by its original name.
Then the footage began to roll. All told we got to watch three scenes of the unfinished movie, and while they didn't make much sense without context, they did effectively show off the tone of the movie as well as Cruise's take on the Jack Reacher character. The first part of the show featured Cruise sitting in a bar and getting approached by a young girl who propositions him. In his refusal of her offer, the protagonist intonates that she is a bit of a slut, which isn't taken too kindly by the five men she is apparently at the bar with. As the scene moves outside, Reacher shows the men his mean reputation. What I enjoyed most about the scene was its writing and humor, which had writer/director Christopher McQuarrie's mark all over it. When one of the guys tells the girl, "Shut your cock holster," I couldn't help but think back to the opening scene of The Way of the Gun in which Ryan Phillippe exclaims, "Shut that cunt's mouth before I come over there and fuck start her head." Cruise even gets to get in on the fun, as the girl says she isn't afraid of a little blood as the group is heading outside to fight and Reacher quips that it's because it means she's not pregnant.
The next sequence shown was all about the action. Beginning with Jack Reacher driving around in his 1970 Chevelle SS, the character runs into David Oyelowo, who plays a detective who is on Reacher's tail. After a brief stare-down, the scene escalated into a full-blown car chase that had the hero not only escaping the police, but also a mysterious duo driving around in a white Audi. The direction was slick and fun, and featured a fantastic ending that had Reacher disappearing into a crowd of people (though I won't spoil how).
The last bit shown wasn't so much a scene as it was a nice little bit. A man comes up behind Reacher with a gun and tells the lead not to move. Responding to this, Reacher says, "I move and you pull the trigger." Moving like lightning, the hero goes for the gun and while a shot does ring out it's not nearly in time as the gunman has already been neutralized.
Obviously it's far, far too early to make any definitive statements about Jack Reacher - do you really think that they would show us footage they weren't confident in? – but I must say that my interest has been piqued. The film arrives in theaters on December 21st and hopefully it won't be too long until the first trailer arrives online. In the meantime, to read more about the movie head over to our Blend Film Database.
Your Daily Blend of Entertainment News
Assistant Managing Editor
NJ native who calls LA home and lives in a Dreamatorium. A decade-plus CinemaBlend veteran who is endlessly enthusiastic about the career he's dreamt of since seventh grade.
Your Daily Blend of Entertainment News
Thank you for signing up to CinemaBlend. You will receive a verification email shortly.
There was a problem. Please refresh the page and try again.