Hayley Atwell Will Be In Captain Nemo Sequel If Horizons With Tom Cruise Doesn't Pan Out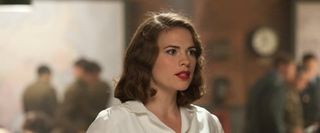 If you don't know the name Hayley Atwell, you may have seen her flirting with super-soldier Steve Rogers in this past summer's surprisingly awesome Captain America: The First Avenger. She played Peggy Carter, Cap's would-be ladylove, up until their romance went cold (ahem). She's starred in a handful of other movies over the past few years, as well as appearing in Starz's Pillars of the Earth mini-series, based on the novel by Ken Follett. Having proven her knack for period pieces, her next project may be a 3D sequel to Jules Verne's 20,000 Leagues Under the Sea. That's assuming she doesn't wind up heading to the future on the Universal/Tom Cruise science fiction flick Horizons (formerly called Oblivion). Deadline says that the low-budget The Return of Captain Nemo hopes to start filming on January 16th, but that could presumably be delayed if Atwell signs on for Horizons, which is scheduled to begin that same month.
We previously told you that Atwell was in the running for one of Horizons' lead female roles, up against Diane Kruger (Inglourious Basterds) and Kate Beckinsale (Underworld). There aren't many details on the role Atwell has tested for, but we do know that Cruise will star as a court-martialed soldier who is banished to Earth's irradiated surface and tasked with repairing the drones that protect the remnants of humanity from alien scavengers. Things get thrown for a loop when a mysterious woman crash-lands nearby. Jessica Chastain (The Tree of Life) had previously nabbed one of the two female lead roles, so it's unclear whether she might be the crash-landing lady or if Atwell might be up for that role.
As for the Captain Nemo project, it is not, to clarify, the David Fincher version that's been gestating for years, with at least five writers currently listed on IMDb Pro as having worked on the script. That movie sounds like it will be a prequel of sorts, focusing on how Nemo built his high-tech craft, the Nautilus, and set about terrorizing the high seas. The Return of Captain Nemo, as the title suggests, leaps to the other side of Verne's text and picks up after 20,000 Leagues, with Nemo being released from prison and tasked by President Ulysses S. Grant to investigate a string of "sea monster" attacks in the Atlantic. Hugh Bonneville will play Nemo, David Morrissey is in the role of one of Grant's top advisers, and Atwell's Sara is a niece of Morrissey's character.
The Return of Captain Nemo will have a steampunk vibe and is budgeted for a mere $10 million, a tiny amount given that the Fincher version will likely cost 10 times that. They'll make their cash stretch by shooting the entire project on green screen, along the same lines as 300. Presumably with fewer oiled-up, six-packed Spartans, however.
Your Daily Blend of Entertainment News