See Mad Max: Fury Road's Deleted Patton Oswalt Scene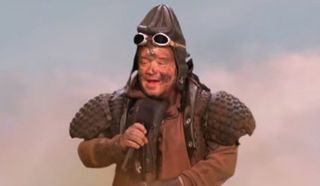 George Miller's Mad Max: Fury Road may not be as massive a blockbuster as Warner Bros. had hoped, but it's lighting film fans across the globe on fire. Comedian Patton Oswalt is one of the film's many supporters, and we bet you didn't know he was actually in the movie, though his scene was cut out. He recently shared this excised clip, though watching it, we have some questions about its authenticity. Check it out for below and judge for yourself.
Sure, this isn't real, but it's a damn good time. In this scene that Oswalt shared with the world on Conan, he plays a companion the Doof Warrior, better known as that crazy looking guy with the flamethrower guitar who stands on a post-apocalyptic battle wagon rocking out through the whole movie. While those sweet jams serve to pump up the War Boys, warlord Immortan Joe (Hugh Keays-Byrne) is savvy enough to know that maybe heavy metal isn't going to get the adrenaline pumping for everyone, and employed a stand-up comic, Oswalt, to further inspire the troops.
After the clip, Conan kind of rains on Oswalt's parade by saying that he thinks Miller made the right decision cutting the comedian out of Fury Road. Way to kill the buzz, dude. That really is the one thing I thought was missing from the movie. Seriously, who wants to go on an endless, high-speed chase across the desert without some comic relief? You've got to stock up on music for any road trip, but we all know that after a few days, you want to listen to a book on tape or a comedy recording just to break up the monotony. Still, Miller seems to know what he's doing and Fury Road is pretty sweet, even without Oswalt.
Despite all of the hype and almost exclusively positive reviews—it still has a 98% Fresh rating on Rotten Tomatoes—Mad Max: Fury Road didn't explode at the box office quite as much as the studio would have liked. It got dusted during its debut weekend by the aca-sequel Pitch Perfect 2, though it is doing strong business in a global sense, currently sitting at more than $128 million worldwide. Still, with a budget of at least $150 million (some estimates are as high as $200 million), it has some ground to make up.
For his part, however, Miller is still talking sequels, assuring fans that there are more Max Rockatansky adventures in store. The next installment even already has a name in place, Mad Max: The Wasteland, which, while not breaking the mold, certainly fits the sparse, arid environs of the world he created.
Mad Max: Fury Road is in theaters now, and if you haven't checked it out yet, what are you waiting for?
Your Daily Blend of Entertainment News
Your Daily Blend of Entertainment News
Thank you for signing up to CinemaBlend. You will receive a verification email shortly.
There was a problem. Please refresh the page and try again.