Tom Hiddleston Is The Top Choice For The Ben-Hur Remake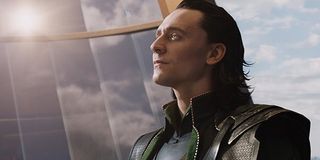 The chariots are calling Loki, and the Avengers villain just might answer. MGM is digging deep into its back catalog to resurrect Ben-Hur for a new audience, under the stewardship of director Timur Bekmambetov. It stands to reason that the part would be one of the most highly in-demand in Hollywood, and MGM surely could have gone with a big name, or a fresh face. Instead, they might be splitting the difference, eying a man familiar to most audiences, but still as-yet-untested in a lead role.
Deadline reports that MGM wants Tom Hiddleston to star as the famous slave-turned-champion in 2016's Ben-Hur. This version is said to be more closely based on the novel Ben-Hur: A Tale Of The Christ, where the fate of Judah Ben-Hur is contrasted with Jesus Christ. Yep, you've got religion in my gladiator epic! No, you've got gladiator epic in my religion! Oh boy! John Ridley, who just recently earned an Academy Award for penning 12 Years A Slave, is the scribe in charge of the material, which would spotlight the feud between Judah Ben-Hur and former friend Messala, who double-crossed his buddy and allowed him to be sold into slavery. Coooold-blooooded.
Hiddleston is reportedly deciding between two MGM films, the other being the much more modest Me Before You. Based on the Jojo Moyes novel, the story would find Hiddleston as a lifelong overachiever who, after an accident, is restricted to a wheelchair, becoming suicidal as he questions his worth. In his recovery, he becomes close with a "small town girl" who serves as his caretaker and teaches him how to appreciate life. Or maybe they just sit around, pig out on junk food and watch Faces Of Death. MGM has secured a director for the film in theater-experienced Thea Sharrock, who had previously worked with Hiddleston on The Hollow Crown for the BBC. It's a difficult choice for Hiddleston – work on the small film with a former collaborator eager for a big break, or take the big paycheck for the blockbuster from Son Of God producers Roma Downey and Mark Burnett?
One of these roles could certainly shoot him into the stratosphere, but what would that mean for his beloved villain Loki? We've seen Hiddleston play the role three times now, and the end of Thor: The Dark World suggested big things ahead for the actor. Loki's no-doubt a juicy role, but he's definitely playing second fiddle to Chris Hemsworth: will he continue to do so if Ben-Hur turns him into the matinee idol his looks and talent suggest he will be? Thor 3 is in the planning stages: hopefully this news means that Marvel will bend over backwards to give Loki some juicy material to devour next time out.
Your Daily Blend of Entertainment News