Toronto Film Festival Video Blog #4: Comic Con, Take This Waltz And Your Sister's Sister Reviewed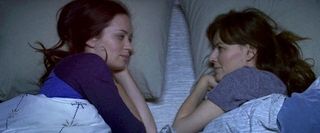 I spent Sunday away from the video blogs, not because it was a day of rest but the opposite, crammed with six interviews and three movie screenings. After all, movie news in the real world was slow and I had nothing better to do but cram in as much Toronto Film Festival as possible. But today I'm back with a video to sum up three of the more interesting movies I've seen in the meantime-- Morgan Spurlock's Comic Con Episode IV: A Fan's Hope, Sarah Polley's Take This Waltz and Lynn Shelton's Your Sister's Sister. Check out the video below and with more thoughts after that.
The Saturday night screening of Comic Con Episode IV: A Fan's Hope was one of the bigger spectacles I've seen at TIFF so far, not for movie stars but for cosplayers surrounding the theater. You can see some photos here to get an idea of what I mean. The movie that followed wasn't exactly boring, but a little dry by comparison-- made efficiently by Morgan Spurlock, it also feels a little too ready-for-TV, and eager to wrap up five different storylines with convenient endings that just so happen to leave everyone happy by the end of the Con. Maybe I'm just bitter about the fact that I didn't somehow show up in the background of any of the shots, but I thought the movie could have gone a little deeper talking about a yearly event that I know for a fact is incredibly complex, weird, and worthy of more extensive documentary treatment.
The next morning, though, I was lucky enough to catch one of my favorite films of the festival-- Take This Waltz, from actress-turned-director Sarah Polley. I already wrote about this one in pretty extensive detail here, so head over there to read my full thoughts.
And finally in the video blog, but not nearly the end of my TIFF journey, was Your Sister's Sister, which reunites Humpday director Lynn Shelton with that film's star Mark Duplass, and brings in Rosemarie DeWitt and Emily Blunt, two actress more familiar from much bigger movies than tiny indies like this one. The actors and filmmaking team holed up in a series of cabins on the San Juan Islands near Seattle for a lean 12-day shoot to capture the story of two sisters (DeWitt and Blunt) and a friend (Duplass) who accidentally find themselves sharing a remote cabin. It sounds like either the setup for a horror movie or a sequel to The Big Chill, but using Shelton's typical improvised style and a very languid pace, Your Sister's Sister is both funnier and a lot deeper than that, focusing its attention on relationships between siblings, how important and fractured and sometimes impossible they can be. The actors are all amazing and more than up for it, having developed their characters as part of the screenwriting process, but Shelton's sure camera also helps tell the surprising, hugely rewarding story. It's nice, in a festival that can skew both mainstream and cynical, to see a quiet and well-told movie that wears its big beating heart on its sleeve.
To keep up with my reports from Toronto and everything I've posted already, go here. There's still much more to come!
Your Daily Blend of Entertainment News
Staff Writer at CinemaBlend