Trailer For Aussie Thriller The Snowtown Murders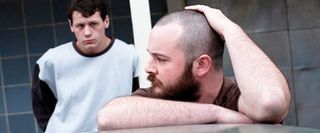 Formerly titled simply Snowtown, director Justin Kurzel's chilling debut The Snowtown Murders investigates the true story of a rash of killings that occurred around Snowtown, South Australia. The sickening killings spree was uncovered in 1999, when barrels filled with human remains were found in the formerly unknown town. From their contents, 11 victims were eventually identified. The Snowtown Murders explores the strange bond that formed between two of the perpetrators of this horrendous crime, and how it inspired so much bloodshed.
Surrounded by the poverty and the omnipresent threat of violence, Snowtown resident Jamie Harvey (Lucas Pittaway) is a 16-year-old boy in desperate need of a male role model. His mother (Louise Harris) offers him one in the form of John Bunting (Daniel Henshall), her latest beau, a charismatic man with a stern sense of right and wrong. Before long, John and Jamie are inseparable, and Jamie begins to accompany John and his friends on their vigilante missions of malformed morality. Caught in a confusing mix of misdirected hero worship and terror, Jamie becomes an accomplice with much blood on his hands.
The Snowtown Murders premiered last winter at the Adelaide Film Festival, where it won the Audience Award and was heralded for its unflinching look at human cruelty. With the spring came the film's exhibition at the Cannes Film Festival, where it went on to win the Jury Prize. Now, after winning 4 Australian Academy Awards—including Best Director, this spine-tingling drama has finally garnered a U.S. release courtesy of IFC Midnight.
The Snowtown Murders will be released theatrically in NYC on March 2nd, with a national rollout to follow. To learn more, visit their website.
Staff writer at CinemaBlend.
Your Daily Blend of Entertainment News
Thank you for signing up to CinemaBlend. You will receive a verification email shortly.
There was a problem. Please refresh the page and try again.