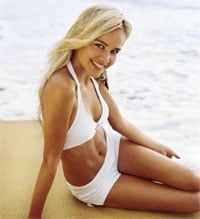 If you thought Optimus Prime looked good before, just wait till you see him in 3D. ComingSoon says that when Transformers 2 hits theaters, it'll show up in 3D. Whether that means the entire thing will be in 3D or if we'll just get select scenes the way we have with most 3D blockbusters, remains to be seen. I'm betting on selected scenes.
Not in 3D though will be Transformers star Rachael Taylor. She tells Moviehole she's out of Transformers 2, and she thinks it'd be pretty ridiculous for her computer hacker character to be in it anyway. Replacing her blonde, beach-babe hotness will be actress Isabel Lucas (pictured). Michael Bay recently confirmed on his message board that she's been cast to play a character called Alice in his giant freakin robots sequel.
Your Daily Blend of Entertainment News
Thank you for signing up to CinemaBlend. You will receive a verification email shortly.
There was a problem. Please refresh the page and try again.