Transformers 2 Casts Teresa Palmer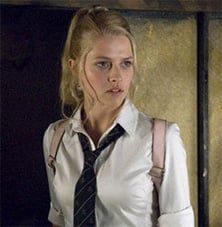 While I spend my days pretending to befriend beautiful women, Clint over at Moviehole has actually done it. He's friends with the lovely Teresa Palmer, probably best known for her role in The Grudge 2 as Vanessa, and apparently she's told her buddy that she's joining the cast of Transformers 2. For all the details head over to MH.
It'd be a waste to turn her into a robot, she has the kind of face that deserves to be seen, so expect her to play one of the humans in the film. Just in case there was any doubt. Though she would make a super sleek looking BMW convertible.
Palmer was at one point supposed to be in the Justice League movie, but we all know how well that mess has turned out. Nice to know that she's landed on her feet, and in a movie that might actually get made.
Your Daily Blend of Entertainment News