Transformers Producer Says No G.I. Joe Crossover Is Planned... Yet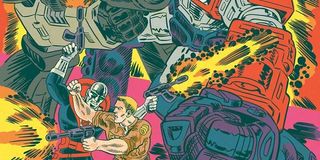 Marvel and DC are crossing their cinematic characters over. Fox is contemplating a mash-up of the X-Men and Fantastic Four. Sony has a big Spider-Man universe. If you own a massive backlog of characters with similar demographics, why wouldn't you have them collide? At least that's the question that many have posed to Hasbro, who own Transformers and G.I. Joe. Could the two mythologies collide?
Total Film sat down with producer Lorenzo di Bonaventura, who is behind both properties, to discuss whether a Transformers/G.I. Joe collaboration was possible. He had this to say:
And if you want to hear his comments in context, give 'em a listen!
While Transformers: Age Of Extinction is expected to threaten $1 billion in grosses, last year's G.I. Joe: Retaliation grossed a comparatively-modest $375 million. Interestingly, the last installments in the Transformers and G.I. Joe sagas were the highest-grossing in theaters, but the lowest-earning on the home DVD market. That suggests a low repeat value: could audiences be pressed into re-sampling a movie that features both properties, boosting those Blu-Ray sales?
Even if so, the numbers clearly aren't strong enough for di Bonaventura to consider an obviously-profitable endeavor like this. It's almost as if he's throwing shade at other franchises for their crossovers, subtly implying they've run out of stories. Pretty disingenuous considering we're dealing with properties based on toys: to say the four Transformers films actually have stories is like saying Mark Wahlberg would make a convincing Texan. Sure thing, Cade Yeager. Whatever.
Of course, even if Transformers has a leg up on popularity, G.I. Joe comes with Dwayne Johnson. And who doesn't want to see The Rock piledrive Bumblebee? Even if your opinion of G.I. Joe and Transformers is low, what would you say about a Pain And Gain reunion, with Johnson's Roadblock enlisting Cade Yeager to join the Joes and take down the Decepticons? You'd probably say yes, right? "Out of ideas" my ass, di Bonaventura. Everyone would say yes to that. What else are they gonna do? Watch arthouse movies?
Your Daily Blend of Entertainment News
Your Daily Blend of Entertainment News
Thank you for signing up to CinemaBlend. You will receive a verification email shortly.
There was a problem. Please refresh the page and try again.