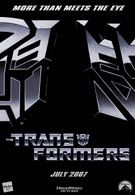 It's been a little while since we've had some interesting Transformers news. Actually, you might say we've never had any interesting news on the movie since it was announced. Michael Bay and company keep tossing out human actor names like the cast depends on them, when really what everyone wants to know is what the Transformers will look like and who will be voicing them. This is me just taking a guess here, but I suspect we won't see any test footage until around Comic-Con time.
For now, here's some of the latest Bay has posted on his blog about the movie, now officially titled Transformers: Prime Directive:
Expect to see the official teaser poster and trailer July 4th.


Last week was the official first week of filming, with over 250 shots set up and filmed.


Currently Bay is working on the military aspects of the film in New Mexico. Bay states "this is the largest military cooperation since Pearl Harbor and Black Hawk Down"


Several of the crew suffered from heat stroke during filming. The temperatures are around 118 degrees and Bay himself almost dropped once.


Script reviews circulating the internet have been great but are wrong, working from a 4 month old script. Bay claims they have done lots of work on the script since then and that the only shooting script is kept on Bay's personal computer (a trick Spielberg taught the director).

Bay sounds really excited about working on Transformers and hopefully that excitement will carry onto his project. He's one director that's pretty much guaranteed to deliver Grade-A Bang Bang. As long as they don't mess things up completely for the fan-boys, this should be a guaranteed hit.
Your Daily Blend of Entertainment News
Thank you for signing up to CinemaBlend. You will receive a verification email shortly.
There was a problem. Please refresh the page and try again.