Tribeca Film Festival: Paul Rudd Plays A Working Stiff In Almost Christmas And Prince Avalanche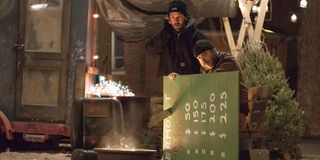 Prince Avalanche and Almost Christmas make for a pretty solid double feature. Both are dark comedies that star Paul Rudd as a blue-collar guy trying to prove his worth to his girlfriend and her young daughter. Both attempt tender character portraits, and both appear to be attempts by their directors to reclaim the critical acclaim that once embraced them.
Almost Christmas is Phil Morrison's long-awaited follow-up to the 2005 indie drama Junebug, which memorably launched Amy Adams' career. Described as a buddy comedy, it follows two Canadian thieves to New York City, where they try to go legit by selling Christmas trees in Brooklyn. Paul Giamatti plays Dennis, a surly crook whose just been released from a four-year stint in prison to find Rene, his former partner-in-crime, has stolen away the love of Dennis' wife and daughter. Rudd plays this disloyal but dopey former safecracker, who is a charismatic chatterbox that pleads patience from Giamatti's rage-filled ex-con.
While the performances by Rudd and Giamatti are expectedly engaging, the plot feels rudderless as the days tick down to Christmas and the film's finale. The stakes of this tree-selling venture are unclear, preventing the movie from being deeply engaging. Rene is close to proposing to Dennis's ex, who told their daughter that Dennis is dead. So what could Dennis possibly hope to gain in this adventure? The final answer is cute, but anticlimactic. Still, Sally Hawkins is a standout as an outspoken Russian maid who befriends the thieves, alternately belittling them and feeding them in her unique brand of gruff love. But overall Almost Christmas isn't funny enough to please as a comedy, and not deep enough to work as a drama. Consider this Morrison's sophomore slump.
Based on the Icelandic odd couple comedy Either Way, Prince Avalanche has Rudd in the curmudgeon role of Alvin, a pretentious road worker who is spending the summer working alongside his longtime girlfriend's clueless slacker brother Lance (Emile Hirsch). Together they paint yellow lines, and put up signs on a newly paved stretch of road that winds through a territory recently razed by wildfires. Admittedly, as this is helmed by Green and starring Rudd, I had anticipated a broad, slapstick-heavy comedy like Pineapple Express, or The Sitter. But after the latter disappointed commercially and took a beating critically, Green needs a success and to reassess. So he has returned to his roots with this quirky, character-driven dramedy. And while at times a bit wonky, Prince Avalanche is winsome and poignant.
A mellow movie about loneliness and friendship, it has a sweet and earnest charm, and a rough and tumble appeal. Alvin and Lance initially work in silence, carefully avoiding the confrontations their very different personalities make inevitable. But as they share in each other's highs, lows, and strange experiences with the strange people who haunt this strip of road, the two help each other rise from the ashes of their own personal disasters.
Meditatively paced and thoughtfully plotted, Prince Avalanche allows its characters space to breathe and evolve within the lonely world it presents. Aside from these two lovable schlubs, the landscape offers up a moonshine swilling guru and a widow sifting through the ashes of her fire-eaten home for some evidence of her life before. Delicately rendered performances imbued with a lively humor make each of the film's characters captivating, as do strong performances offered all around. Rudd is smugly satisfying as a know-it-all, but Hirsch steals his thunder as the tender hearted horn-dog Lance, proving he has the comedic appeal (and even a vague physical resemblance) of Jack Black, minus the manic mannerisms. All in all, Prince Avalanche is a heartwarming comedy that shows Green hasn't lost his touch, just briefly his way.
To catch up on all of our Tribeca coverage, click here.
Staff writer at CinemaBlend.
Your Daily Blend of Entertainment News
Thank you for signing up to CinemaBlend. You will receive a verification email shortly.
There was a problem. Please refresh the page and try again.