Tribeca: John Lithgow And Alfred Molina Break Hearts With Love Is Strange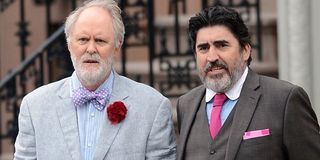 Let me say at the top: I was in no way prepared for how much Love Is Strange would make me cry. I'd heard fantastic things from colleagues who had seen the romantic drama at its world premiere at the Sundance Film Festival. But no one prepared me for how deeply moving Ira Sachs's latest effort--which boasts brilliant turns by John Lithgow and Alfred Molina--truly is. Now this celebrated Sundance selection set in New York City has found its way home at the Tribeca Film Festival, and New Yorkers have reason to rejoice.
As follow-up to his critically heralded indie drama Keep The Lights On, co-writer-director Sachs offers another tale of love between two men in Manhattan. Instead of focusing a new couple struggling with issues like coming out of the closet, Love Is Strange centers on a pair of partners who have been together for decades. With marriage equality having come to New York, Ben (John Lithgow) and George (Alfred Molina) can at long last make it official. Unfortunately, the Catholic school for which George has worked for over a decade does not approve. So he is fired, leaving the pair homeless, and forcing them to separate. George crashes on the couch of some rowdy (though loving) neighbors, while Ben moves in with his nephew, his wife and their teen son (Charlie Tahan). Through this setup, Sachs and his impeccable cast explore the many varieties and obstacles in love.
From its earliest moments of Lithgow and Molina tangled around each other in a lazy snarl in their bed, as morning sun intrudes, these two rightly lauded actors weave a chemistry so casual and complete that Ben, George, and their relationship roar to life. Their tenderness, playfulness and warmth evokes years of shared experiences for better or worse, and grounds the film in a love that needs to pull us through its rather ramshackled narrative.
After George is fired, the story bumps along to his frustration with his neighbors, who have taken him in, but won't let his presence on their couch put a halt on their very active social life, filled with parties and late night visitors. The film then veers to the tension-filled home Ben is fumbling along in, where he is a nuisance to his niece-in-law (Marisa Tomei), who works from home, as well as his grand-nephew who resents having to share a bunk bed with a 71-year-old. While at times, Sachs can veer to a scene that feels unnecessary or like a sentimental tangent (like a lengthy scene where George crumbles emotionally during a piano lesson), overall Love Is Strange is kept humming by the fantastic performances of its cast, each imbruing their character with a rich emotional life.
Tomei is introduced as a vain writer struggling through a difficult time at home with a withdrawn son and an often-absent husband. But through her dealings with Ben, she demands an empathy from the audience as she wills herself to be patient to a man she does love and admire. Young Tahan neatly creates a captivating portrait of a confused boy who is fighting to find a sense of identity with the help and hindrance of a new friend who might be a bad influence. Cheyenne Jackson brings some levity and verve into the proceedings as the party animal neighbor who also has a soft spot for Dungeons & Dragons. But above all Love Is Strange is about Molin and Lithgow, and their arc is fragile and deeply affecting.
My heart has always swells when a relationship onscreen mirrors my own in some way. And the need you feel when these two magnificent actors cling to each other, caress or console, made me tear up with a joy of recognition. When they are separated, forced by circumstance into loneliness, I ached for them (and cried some more). And then, with a finale that is delicately laid out and exquisitely executed, they broke me. I left the theater with no hope of hiding my tears. Tears of joy, tears of sadness, all intermingled to make me a mess before 11 A.M.
Film festivals bring on such unexpected blessings. Thankfully Love Is Strange will soon have a chance to wreck wider audiences, as Sony Pictures Classic is set to distribute the film, likely later this year. Let it wreck you. It's a wonderful ride.
Your Daily Blend of Entertainment News
Staff writer at CinemaBlend.