Twilight Is Coming Back In A Very Cool Way, Get The Details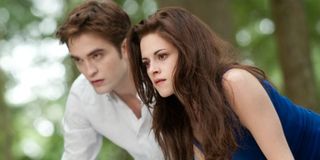 One of the biggest life lessons we learned from Game of Thrones is "what is dead may never die," and this seems to be the case with Twilight. The high-grossing film franchise based on the Stephenie Meyer-penned book series is returning with a slew of short films, and now you can read the screenplays for each of them.
A while ago, Meyer announced a project called The Storytellers: New Voices of The Twilight Saga, in which aspiring female filmmakers would be given the chance to direct their own short film based on a character from Twilight. As project heads are now searching for said directors, The Hollywood Reporter notes that the finished screenplays for these six works are now online to download.
The only criteria was that each screenplay had to be centered around a character from The Twilight Saga: The Official Illustrated Guide and take place before Bella moved to Forks and changed Edward's life for the better…or worse, depending on how you look at it. While there were pitches to feature the likes of Victoria (played by both Rachelle Lefevre and Bryce Dallas Howard in the films), Esme (Elizabeth Reaser) and Aro (Michael Sheen), Alice Cullen proved to be the most popular. The foresighted vampire, portrayed by Ashley Greene, is the subject of three of the final screenplays, while the other half center around Aro's bodyguard Jane (Dakota Fanning), the Egyptian and elemental-wielding vampire Benjamin (Rami Malek), and the Cullen patriarch Carlisle (Peter Facinelli). It's unclear at this point whether these actors will reprise their Twilight characters in this series of short films, but we won't rule it out.
These six screenplays, which can be downloaded here, were selected by Meyer, Kristen Stewart, Lionsgate, Women In Film, Facebook and Volvo. Now the next step is finding these budding female filmmakers. As previously announced by the project, Meyer and Stewart will choose the directors with help from a panel of judges that includes Divergent film series stars Kate Winslet and Octavia Spencer, Frozen director and writer Jennifer Lee, Twilight director Catherine Hardwicke, Modern Family star Julie Bowen and President of Women In Film Cathy Schulman. For those of you who hate Twilight, you'll be glad to hear that they won't be screened in theaters. Instead, they'll make their debut on Facebook, which is not only a major leap forward in the social media platform's plan for video, but will easily reach the diehard Twilight fans.
Many actresses, like Cate Blanchett, Meryl Streep and Helen Mirren, have bemoaned the current state of the movie industry, which is brimming with testosterone. While Twilight haters may criticize this new short film project, you have to give Meyer and co. props for putting the spotlight on women looking to further their careers in the industry. It's about time we had more women storytellers making movies.
Your Daily Blend of Entertainment News