The Twilight Saga Breaking Dawn Will Be The Opening Panel At Comic Con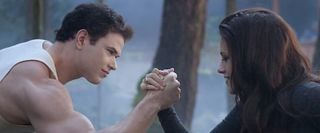 As Comic Con approaches, the TV networks have been rolling out the panel confirmations fairly steadily. We're still waiting for more confirmations on what movies will be showcased with panels at this year's Comic Con. It looks like Summit is bringing The Twilight Saga back to San Diego next month, in anticipation of the second part of the final installment to the Stephenie Meyer-written vampire series. An update on the film's presence at the convention was posted today.
While non-Twilight fans will likely groan at the thought of Twihards filling up Hall H, from what was announced via twitter tonight, it looks like they'll once again be putting the Breaking Dawn panel among the first of the big movie panels to take place at the convention. And Twilight Lexicon posted word from Summit, which states:
The announcement goes on to say that fans in attendance will be shown exclusive footage from the film, and treated to a Q&A session with the cast and filmmakers. No specifics on who exactly will be there, but the movie will also be featured at the Summit Entertainment booth. "Those who stop by will have the chance to attend autograph signings, participate in contests and collect free giveaways all weekend long."
More information, photos and videos for The Twilight Saga: Breaking Dawn - Part 2 can be found in our Blend Film Database.
Some Twilight fans may come to Comic Con to see the Breaking Dawn panel and leave afterward, but vampire fanatics have a few other reasons to stick around the convention, among which are the confirmed Vampire Diaries and True Blood panels, both of which are set for Saturday (July 14) in Ballroom 20.
Your Daily Blend of Entertainment News
Thank you for signing up to CinemaBlend. You will receive a verification email shortly.
There was a problem. Please refresh the page and try again.