Twilight Studio Flings Mud At Fired Eclipse Actress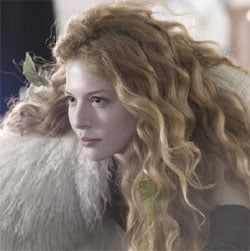 Civil war seems to have broken out at Summit Entertainment, or at the least a minor skirmish between the studio and one of their former Twilight actors. Yesterday here we told you that Bryce Dallas Howard was being brought in to replace actress Rachelle Lefevre in the third Twilight movie Eclipse. Rachel had already played the vampiress Victoria in Twilight and will appear as the character in The Twilight Saga New Moon.
Alright, no big deal. This sort of thing happens all the time with any franchise. Lefevre spoke out about the casting change and her response however, seemed a little strange. She told Access Hollywood she was "stunned" by the decision and that she "was fully committed to the 'Twilight' saga" and that doing so cost her other film opportunities. In fact she claimed that outside of Twilight she "only accepted only roles that would involve very short shooting schedules." She says those roles were behind Summit's decision: "Given the length of filming for 'Eclipse,' never did I fathom I would lose the role over a 10 day overlap. I was happy with my contract with Summit and was fully prepared to continue to honor it. Summit chose simply to recast the part."
Her response was slightly odd, yet mostly gracious and kind to fans and the franchise in general. It doesn't seem like a big deal, but hold on, because here's where the whole thing starts to get a little high school. Tonight Summit Entertainment sent us an official response to Lefevre's comments. What's a multi-million dollar movie studio doing responding to the random goodbye comments of an actress no longer in their employ? I'm not sure, but below is the full, official, Summit response. It's exactly as they sent it to me through their PR representatives. I've added no commentary, made no alterations.
We at Summit Entertainment are disappointed by Rachelle Lefevre's recent comments which attempt to make her career choices the fault of the Studio. Her decision to discuss her version of the scheduling challenges publicly has forced the Studio to set the record straight and correct the facts.
Ms. Lefevre's representatives were advised as early as April that THE TWILIGHT SAGA: ECLIPSE was expected to start shooting in early August.


If Ms. Lefevre was, as she describes "passionate," about being part of THE TWILIGHT SAGA, we feel that she and her representatives would have included us in her decision to work on another film that would conflict with the shooting schedule of THE TWILIGHT SAGA: ECLIPSE.


It was not until July 20th that Summit was first informed of Ms. Lefevre's commitment to BARNEY'S VERSION, a commitment we have since been advised she accepted in early June. Summit had acted in good faith that she would be available to fulfill her obligations both in terms of rehearsals and shooting availability for THE TWILIGHT SAGA: ECLIPSE. We feel that her choice to withhold her scheduling conflict information from us can be viewed as a lack of cooperative spirit which affected the entire production.


Furthermore Ms. Lefevre took a role in the other film that places her in Europe during the required rehearsal time, and at least ten days of THE TWILIGHT SAGA: ECLIPSE's principal photography. This period is essential for both rehearsal time with the cast, and for filming at key locations that are only available during the initial part of production.


Contrary to Ms. Lefevre's statement, it is simply untrue that the Studio dismissed her over a ten day overlap. It is not about a ten day overlap, but instead about the fact that THE TWILIGHT SAGA: ECLIPSE is an ensemble production that has to accommodate the schedules of numerous actors while respecting the established creative vision of the filmmaker and most importantly the story.

The fact remains that Ms. Lefevre's commitment to the other project - which she chose to withhold from Summit until the last possible moment - makes her unfortunately unavailable to perform the role of Victoria in THE TWILIGHT SAGA: ECLIPSE.
There you have it. What was a simple recasting is now an all out, cafeteria food fight. I'm not a Twilight fan and I don't have a dog in this fight, but it's hard not to feel at least a little sorry for Lefevre, sure from now on to be the subject of eternally vigilant Twilight fangirl scorn.
Your Daily Blend of Entertainment News
Thank you for signing up to CinemaBlend. You will receive a verification email shortly.
There was a problem. Please refresh the page and try again.