Twist! M. Night Shyamalan Ghost Wrote She's All That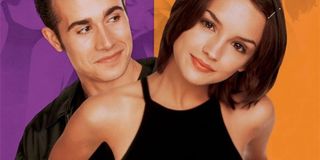 After cinematic atrocities like The Village, The Happening, and The Last Airbender, writer-director M. Night Shyamalan became such a joke to the degree that his name on the trailer for Devil--for which he earned a story credit—got laughs from moviegoers across America. Little wonder then that Columbia Pictures carefully hid his writer and director credits on the marketing for the Will Smith/Jaden Smith vanity project vehicle After Earth. But doing press for the picture, the twist-obsessed filmmaker has revealed something truly shocking: he was the ghostwriter for popular 1999 teen-centered rom-com She's All That.
Speaking with Movies.com, Shyamalan spoke about his range, and then admitted that The Sixth Sense (which he wrote and directed) and Stuart Little (which he has a screenplay credit on) were not the only 1999 movies he worked on. After teasing he'd ghost-written a movie that year as well, he confesses:
Cue the string section to score this stunning reveal! You mean to say that R. Lee Fleming Jr., the writer of the Kirsten Dunst/Sisqo rom-com Get Over It was not the film's sole scribe! Our world is forever rattled!
Here's the She's All That trailer to jog your memory:
Maybe it's not a bad idea for Shyamalan to attempt to tout his range as a writer, considering his string of movies dependent on a mind-bending third-act twist gave him a reputation for being one-note. The release of After Earth has done little to help his reputation as it's been roundly scorned by critics (11% on Rotten Tomatoes). More painfully, the sci-fi adventure budgeted at $130 million dollars has only made $47 million domestically so far, and bad word of mouth is unlikely to help it gain momentum. But some still have faith in Shyamalan. How about you?
This poll is no longer available.
Your Daily Blend of Entertainment News
Staff writer at CinemaBlend.