The Only Two Places Where Star Wars Failed To Win The Box Office Weekend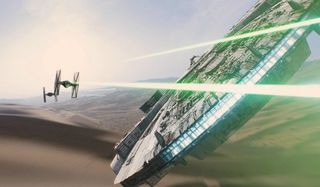 Star Wars: The Force Awakens was a legitimate juggernaut at the global box office over the weekend. As we have been reporting, J.J. Abrams' new Star Wars blockbuster raced to the top of the charts in virtually every major global market it opened in, breaking records left and right as it entertained crowds. I say "virtually" every market because there are at least two that we know of that picked different movies over Star Wars, keeping the sci-fi soap opera out of their No. 1 slot. What gives?
Though Abrams' Star Wars set records in several international markets, THR reports that the movie failed to win the box office in Vietnam and South Korea, where two local, homegrown movies actually drew more attention than The Force Awakens in its opening weekend.
In South Korea, the new Star Wars was bested by Lee Seok-hoon's mountain adventure The Himalayas, which earned $8.7M to Star Wars' $7.9M over the same amount if time. Meanwhile, in Vietnam, Star Wars was toppled by a comedy-drama named Sweet 20, a remake of a 2014 South Korean hit Miss Granny, where a woman in her 70s finds herself transported into the body of her 20-year-old self. Wait, Star Wars was beaten by a body-swapping comedy, which is a remake of a movie that came out LAST YEAR? That's unacceptable!
Listen, there's no way that Star Wars could administer total global domination. Somewhere, some audience member was going to wander up to the ticket booth, look at the options, and plunk their dollars down on Sisters or Alvin and the Chipmunks instead of Star Wars: The Force Awakens. And that competition is only going to heat up in the coming weeks, as an insane amount of really intriguing films will compete for audience eyeballs. Quentin Tarantino's The Hateful Eight, Alejandro Inarritu's The Revenant and David O. Russell's Joy all usher in a welcome age of Adult Cinema, as the Oscar contenders all try to screen before the Academy goes on vacation. And two of those films are making a BIG deal over audiences seeing them on the bog screen. In the case of Tarantino, he wants The Hateful Eight to be seen on the biggest screen possible.
It's unlikely Star Wars is crying over the two markets it missed. It still can scan its global receipts and realize that it had a phenomenal weekend… one of the biggest in Hollywood history.
Movie junkie. Infatuated with comic-book films. ReelBlend cohost. Resident dad. Extroverted introvert. Wants to see the Snyder Cut. Managing Director at CinemaBlend.