Tyler Perry Casts Old Spice I'm On A Horse Guy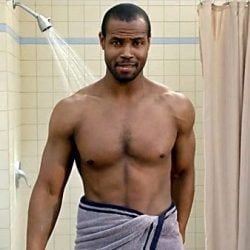 My TV-watching friends and I are relentless abusers of the fast-forward buttons, going so far as to delay Lost by 20 minutes so we can skip all the commercials. But the one commercial we will stop and watch, every single time, is the Old Spice "I'm on a horse" one, with ex-NFL player Isaiah Mustafa, his dulcet tones and rock-hard abs, and a ridiculous, outlandish sense of humor.
I had no idea before today that the "I'm on a horse" guy was an NFL player, but that bit of information comes from AOL Black Voices, where they're reporting that Mustafa has been cast in Tyler Perry's next film, an adaptation of the play For Colored GIrls Who Have Considered Suicide When The Rainbow Is Enuf. The details are a little unclear, but it seems that Mustafa appeared on Oprah's show to talk about the fame brought to him by the Old Spice commercials, and when he mentioned that he had auditioned for Perry's film, Perry himself popped in to tell Mustafa he'd gotten the part.
Up until now the cast for Colored Girls has consisted of, well, colored girls-- Janet Jackson, Mariah Carey, Whoopi Goldberg, Phylicia Rashad and Anika Noni Rose are only some of the names in the all-star lineup. The original play consisted of a series of poems performed entirely by 20 actresses, so while things will obviously have to change in the movie version, it's unclear where a hunky ex-NFL player will fit into the cast. I realize this is a serious drama and all, but I really, really hope they somehow manage to put him on a horse.
Your Daily Blend of Entertainment News
Staff Writer at CinemaBlend