UK Prime Minister Declares Film Funds Will Focus On Projects With Commercial Potential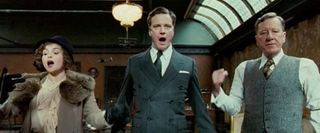 The United Kingdom is facing some major financial troubles, and has been forced to reassess the way their tax dollars are spent. For the Department of Culture, this means reconsidering where their much-coveted production funds—the UK Lottery--will go. According to Deadline, British Prime Minister David Cameron is under fire by the artistic community of the United Kingdom for his plan to favor "more mainstream films with commercial potential" over presumably more daring fare and to "reinvest returns into film companies with the most box office success." It's a new plan of action said to be decided on after a thorough review of the government's current film funding policy, overseen by former culture secretary Chris Smith and informed by conversations with such U.K. tastemakers as Downton Abbey creator Julian Fellowes. Today, Cameron makes his first efforts to enact his bizarrely vague new policy by encouraging filmmakers at the legendary Pinewood Studios to craft more "commercially successful pictures."
This kind of talk is of course incredibly naïve, or as BAFTA-awarded director Ken Loach has articulated:
I mean, come on Prime Minister, no one sets out to make a flop.
But beyond being frightfully naïve, Cameron's plea is an absolute slap in the face to Britain's independent film community. Ironic, considering the 2010 government-funded independent biopic The King's Speech not only won international acclaim—including four Oscars and seven BAFTAs—but also earned more than $414 million worldwide. More shocking still is Cameron's insistence that this new set of guidelines is actually a kind of challenge that will force producers to make better films…with less local funding:
Funny enough the BFI that Cameron refers to (and seems to try to foist some of the blame on) is the British Film Institute, which strives to preserve and promote British cinema through a series of programs, exhibitions and a research library, which also had their budget slashed by Cameron's administration, forcing them to find new funding for a proposed $67 million headquarters. At the time, Studio Briefing quoted new head of the government's Dept. of Culture, Olympics, Media and Sport, Jeremy Hunt insisted such a steep cut was necessary, saying:
Now Americans may find it hard to understand a filmmaking industry so indebted to the government as Hollywood's long been careful to steer clear of government funding (and therefore censorship), but as Britain's film industry contributes to its government's income it's little wonder Cameron is looking to stimulate growth - especially since the massively financially fruitful Harry Potter franchise has come to an end. With no other worldwide phenomenon on the horizon, Cameron's trying to hedge his bets by favoring "commercial cinema," which, as anyone in Hollywood can tell him, is a gamble every time. But beyond being an ambiguous command, it's one that's sure to urge many filmmakers away from innovation and toward convention, which is no way to inspire extraordinary art, cinematic or otherwise.
Staff writer at CinemaBlend.