UPDATE: Gangster Squad Heads For Delay And Reshoots In Response To Colorado Tragedy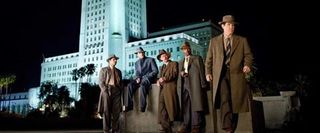 UPDATE: Well, now it's official. According to THR, Warner Bros. has officially moved Gangster Squad to January 11th.
From the moment Warner Bros. made the decision to pull the trailer for Gangster Squad that was playing in front of The Dark Knight Rises, it was clear the movie was in trouble-- and through no fault of its own. The trailer emphasized a scene in which gangsters shoot guns at a movie theater audience, and in the wake of the shootings in Aurora, Colorado, it was impossible to keep that scene playing in front of The Dark Knight Rises. Removing the trailer was the obvious and right choice.
But the question of what to do about the movie itself is much harder, and after many rumors, THR reports that WB plans to both delay the release-- as far back as January of next year, apparently-- and to reshoot the scene that features the movie theater shooting. The studio is currently trying to figure out if they can reassemble the cast for reshoots and also for a January publicity tour, and they'll have to weigh the factor of the competition on the planned Jan. 11 release date-- the Jeremy Renner and Gemma Arterton adventure Hansel and Gretel: Witch Hunters is also scheduled for the same day.
Gangster Squad had originally been scheduled for September 7, a kind of kick-off to the more serious fall movie season with genuine potential at Oscar attention if it went well-- after all, Ben Affleck's The Town, another story about gangsters and violence, opened in mid-September in 2010 and snagged a Best Supporting Actor nomination for none other than Jeremy Renner. Releasing Gangster Squad in January is essentially giving up on its Oscar hopes, and the date would be more an attempt to grab in some moviegoers who saw all the big Christmas releases and are looking for something more interesting than the standard-issue horror that usually comes out around then. You could be unkind and read the January date as WB dumping the movie, but given the mitigating circumstances, that doesn't seem quite fair.
But really, it doesn't seem fair for WB to cut the movie at all. I'll talk about this more on this week's Operation Kino, but essentially, I think it's a shame for a work of art to be altered based on a real-life tragedy that had nothing to do with it. Yes, it will be hard to look at the scene in Gangster Squad and not think of the Aurora shootings-- for a while, at least. But given the notoriously short attention span of Americans, and how much other violence we're accustomed to seeing onscreen, we would have gotten over it. Warner Bros. has been perfect in their many responses to the Aurora shootings, from canceling premieres of The Dark Knight Rises to donating money to benefit the victims, but this feels like a step too far. Delay the release of Gangster Squad if you must-- but don't remove what looks like an intriguing scene and punish a movie that did nothing wrong.
Your Daily Blend of Entertainment News
Staff Writer at CinemaBlend
Your Daily Blend of Entertainment News
Thank you for signing up to CinemaBlend. You will receive a verification email shortly.
There was a problem. Please refresh the page and try again.