UPDATED: Soaps Star Leven Rambin Will Play Glimmer In The Hunger Games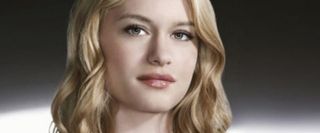 UPDATE: According to the official Hunger Games Facebook page, Jack Quaid-- son of Meg Ryan and Dennis Quaid-- has been cast as the other District 1 Tribute, Marvel.
As I predicted yesterday when Elizabeth Banks was cast as Effie Trinket, we're about to get a deluge of Hunger Games casting information. Next up on the list is the female tribute from the glitzy District 1, Glimmer; according to Deadline, All My Children and Grey's Anatomy actress Leven Rambin has been cast in the part.
The knee-jerk reaction is to protest a glitzy soaps actress being cast in a film that will likely be gritty and dark, but for the role of Glimmer it actually makes sense. District 1 is the home of the capital city in this dystopic future country of Panem (formerly known as the United States), and the tributes from District 1 as typically known as "career tributes," training all their lives in hopes of being chosen for the Hunger Games, which are the gladiatorial fights to the death at the center of the story. Glimmer isn't a major character in the story, which is why I'm surprised an actress with even a little name recognition has been cast, but Rambin probably recognizes a chance to expand her audience and prove some physical skill. Quite possibly every young actor in Hollywood is scrambling for even the most minor roles in The Hunger Games, and we'll likely be reading about a few of them getting the roles in the next few days.
Your Daily Blend of Entertainment News
Staff Writer at CinemaBlend