Ultron Will Be A Lot More Physically Imposing Than We Thought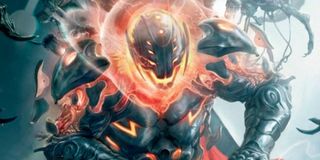 Actor James Spader has had a rich and varied career, from starring in NBC's new hit series The Blacklist to appearing in movies like the quirky S&M cult flick Secretary. It seems unlikely that anything in his previous body of work really prepared for him the task of playing a giant robot, though – which is exactly what Spader will do in Marvel's upcoming The Avengers: Age of Ultron.
Just how massive is Ultron? Well, Spader spilled the beans in this clip from The Tonight Show with host Jimmy Fallon, which was posted over at Comic Book Movie. Does eight feet tall sound big enough for you? Because that's how tall Ultron is, according to the just under six foot tall actor.
"I'm Ultron, eight foot robot," Spader said when the topic got around to the latest Avengers movie. Mix that with the super-strength of the machine, and The Avengers appear set to have their hands full when the newest feature from director Joss Whedon hits theaters next year. Listen to the full James Spader clip here:
Whedon's not sticking to hard comic continuity with James Spader's character – Tony Stark will be Ultron's creator instead of Hank Pym. He won't be quite as powerful as he in the comics, either. He will still be wickedly smart and hellbent on wiping out humanity, who he sees as flawed to the point where the only solution is extermination. Sounds delightful…
It's been a whirlwind run for James Spader, who's about to learn what it's like to juggle a hit TV series like The Blacklist with a major role in one of the biggest comic book franchises around. The actor recently had his first Comic-Con experience, which he describes as "insane."
For his first trip to Nerd Mecca, Spader has a pretty good grip on what Comic Con is all about. He tells Fallon how it's essentially "three days of foreplay" with a payoff that isn't coming for months or years down the road. He's right – Comic Con is one of those places where the sizzle is every bit as important as the steak.
Given that the actor's character on The Blacklist – a high profile criminal who helps the FBI catch other high profile criminals – and Ultron are big favorites amongst con attendees, it appears likely that Spader will be attending many more conventions in the not too distant future. Hopefully, he learns to embrace the madness.
Your Daily Blend of Entertainment News
Thank you for signing up to CinemaBlend. You will receive a verification email shortly.
There was a problem. Please refresh the page and try again.