Van Damme's Kickboxer Getting Remade With Pro Fighters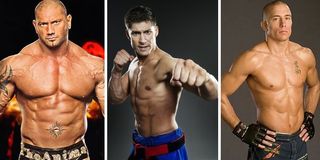 Dwayne "The Rock" Johnson has forged an enviable path from professional wrestling to Hollywood mega-stardom. And now three other pro fighters are following in his footsteps, and those of Jean-Claude Van Damme by headlining a remake of the cult classic Kickboxer.
THR reports out of the Cannes Film Market that WWE star Dave Bautista, who co-stars in the upcoming Guardians of the Galaxy, has joined the Kickboxer remake along with UFC welterweight champion Georges St. Pierre, who had a scene-stealing fight in Captain America: The Winter Soldier. While both these professional fighters are sure to pull in MMA and wrestling fans, neither is shouldering the lead for this high-impact actioner. That responsibility will fall on Alain Moussi, a Gabon-born martial artist and stuntman who appeared in movies like Pacific Rim, White House Down, and Brick Mansions.
Its unclear at present what roles Dave Bautista and Georges St. Pierre will play in Kickboxer, but we're assuming brawny adversaries to Alain Moussi, who will play Kurt Sloan, a role originated by Jean-Claude Van Damme in 1989. Can he possibly step into Van Damme high-kicking shoes? As evidence in Moussi's favor I offer this promotional still from his IMDB page.
Below is the official synopsis for Kickboxer:
Moussi is better known for his athleticism than his acting chops, but Kickboxer producer Ted Field (Pitch Black, The Last Samurai) is confident Moussi will be kill it. He states:
You heard it here. If Kickboxer hits, you can expect Kickboxer 2, 3 etc.
For now, Kickboxer's producers are lining up foreign distribution on the basis of the intimidating leads. But this is actually the third Van Damme movie to recently announce a reboot. Last spring reports emerged that Time Cop was getting revamped. And shortly thereafter V is for Vendetta helmer James McTeigue revealed his plans to remake Bloodsport.
This poll is no longer available.
Staff writer at CinemaBlend.
Your Daily Blend of Entertainment News
Thank you for signing up to CinemaBlend. You will receive a verification email shortly.
There was a problem. Please refresh the page and try again.