Bloodsport Remake Is Happening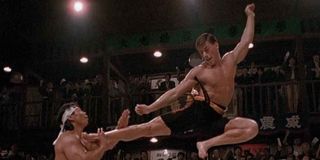 Lately the sheer number of remakes being proposed has gotten beyond ridiculous. But here's one no one saw coming: Relativity is rebooting Bloodsport. That's right, Variety reports the 1988 martial arts movie that starred Jean-Claude Van Damme is getting a makeover at the hands of V is for Vendetta director James McTeigue.
Bloodsport was one of Van Damme's first starring roles. Centered around a brutal martial arts competition, the movie was essentially constructed to show off his unique skill set. Surprisingly, this in-the-works remake doesn't have any acting talent attached just yet. The original film was inspired by the life (or claims) of American martial artist Frank Dux, and focused on his quest to do his Ninjutsu master proud by winning the Kumite, a full-contact tournament that has been known to turn deadly. There is no mention of Dux or the Kumite in Relativity's reboot.
Instead, the story developed by Taken co-writer Robert Mark Kamen and Salt director Phillip Noyce is said to "explore the life of 21st century mercenaries as they collide with the underground world of Brazilian Vale Tudo fighting." Kamen wrote the remake's earlier draft, but Craig Rosenberg, who contributed to the script for the 2009 horror movie The Uninvited, has been brought on to rewrite the screenplay with cues from McTeigue. Rosenberg doesn't have a lot of time to make revisions as Relativity wants Bloodsport to shoot in Australia and Brazil early next year. On the upside, this means we should receive updates on casting soon.
At this time, it's hard to know what to make of this news. The original Bloodsport was made for only $1.1 million with an emerging star, and went on to gross an impressive $11 million domestically. That would provide a tidy profit for Relativity, who will distribute the reboot in the US, and will handle its international distribution through its partners. It's difficult to get to fired up about the original film's legacy as Bloodsports II, III, and IV didn't even include Van Damme. And Kamen's script could prove a great base for taking the franchise in a new direction. But then come the wild cards.
To date Rosenberg has only two produced screenplays that he wrote alone: the 1996 romantic-comedy Hotel de Love and the Demi Moore horror vehicle Half Light. I admit, I've seen neither, but on Rotten Tomatoes they each scored a poor 25% rating. Then there's his script overseer McTeigue, who scored a career high with V for Vendetta. But since then, he's made the critically scorned martial arts actioner Ninja Assassin and the box office flop The Raven. In short, this Bloodsport reboot looks like a gamble. But whether or not we're in favor of a remake, Van Damme seems pleased:
Refresh your memory of the original Bloodsport with the trailer below:
Staff writer at CinemaBlend.
Your Daily Blend of Entertainment News
Thank you for signing up to CinemaBlend. You will receive a verification email shortly.
There was a problem. Please refresh the page and try again.