The Rock Beats Out Robert Downey Jr For Top-Grossing Star Of 2013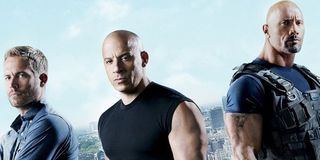 The top-grossing star of 2013 is none other than Dwayne 'The Rock' Johnson, which should be no surprise to those who've been following his career, or following him on Twitter.
Forbes just announced the highest grossing stars of the year, but we could have told you The Rock would top it back in June, when his 2013 releases hit the billion dollar mark. It wasn't just that he'd fronted four theatrical releases this year. It was also that Snitch, G.I. Joe: Retaliation, Pain & Gain and Fast & Furious 6 each spent weeks in the top 10 at the box office.
Fast & Furious 6 alone has gone on to earn $788 million worldwide, making it one of the year's highest grossing domestic releases, and a major factor in the rest of Forbes list. Here's the top 6:
1. Dwayne Johnson
2. Robert Downey Jr.
3. Steve Carell
4. Vin Diesel
5. Sandra Bullock
6. Paul Walker
Looking over the list, you can probably guess which movies made this happen. Fast & Furious 6 gave Johnson, Diesel and Walker spots on the list, but Johnson's other hits took him to the top, beating out Robert Downey Jr., whose Iron Man 3 is currently the highest grossing domestic release, and boasts more than $1.2 billion worldwide. Notably, this is the only movie Downey appeared in this year, which was enough to rocket him to the #2 spot. But it wasn't enough to beat out Mr. "Franchise Viagra." But Johnson's Fast & Furious co-star Diesel has the edge over Walker thanks to Riddick, the Chronicle of Riddick sequel that earned an impressive $98 million worldwide. The late Walker also starred in the limited releases Vehicle 19 and Hours, which opened last weekend.
While Carell boasts a starring role in Anchorman 2: The Legend Continues, that title doesn't factor into this ranking as it won't open until the 18th. That means his #3 spot can be completely attributed to the wild runaway success of the animated adventure Despicable Me 2. Aside from earning a Golden Globe nod for Best Animated Feature, the sequel also earned a whopping $918 million worldwide. With $367 mil domestic, it's right behind Iron Man 3 for the highest grossing US release, but The Hunger Games: Catching Fire is nipping at its heels with $356 million after just four weeks!
It's actually pretty shocking that Catching Fire's $729 million worldwide didn't earn Jennifer Lawrence a spot on this list, but that speaks to the massive popularity of the Fast & Furious franchise, which is now reassessing its future after the unexpected death of Walker. But Sandra Bullock kept this list from being an all-male affair, thanks to the one-two punch of The Heat and Gravity. The first was a massive summer hit, the latter a theatrical event that critics could not stop raving about. The R-rated comedy she fronted with Melissa McCarthy surprised box office watches by not only opening at $39 million, but also dominating its big action rival White House Down. All told, The Heat earned $229 million worldwide, making it a respectable follow-up to Paul Feig's $288 mil hit Bridesmaids. But those numbers pale in comparison to Alfonso Cuaron's lost in space drama Gravity, which earned $252 million domestically, and $642 million worldwide.
Basically, The Rock is at the top this year, while Adam Sandler hovers near rock bottom.
Staff writer at CinemaBlend.