Vidcast: Katey And Nathaniel Flip For Julie & Julia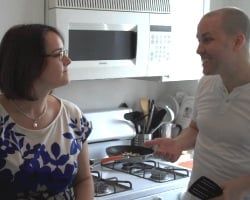 We're a bit late to the party, but The Film Experience's Nathaniel Rogers and I got together last week to talk about Julie & Julia, the Meryl Streep-led comedy that has done stellar box office, especially for a "chick flick" in which nothing really happens, but a lot of delicious food is consumed.
And since everyone walks out of that movie hungry, we decided to kill two birds with one stone, and Nathaniel cooked me an omelette while we talked about the movie. It isn't so much a review as just a conversation about the film, since by now there have been more than enough reviews of the movie. Think of this as breakfast with Katey and Nathaniel, in which we have chorizo rather than serious film criticism. Hey, it's a Sunday-- do you really want more than that?
Staff Writer at CinemaBlend
Your Daily Blend of Entertainment News
Thank you for signing up to CinemaBlend. You will receive a verification email shortly.
There was a problem. Please refresh the page and try again.