Video: Jaws, Caddyshack Make The List Of 25 Greatest Unscripted Movie Scenes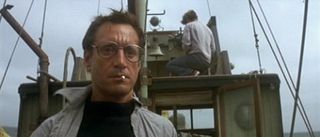 Did you know Bill Murray's oft-quoted "It's in the hole" from Caddyshack wasn't in Harold Ramis and Brian Doyle-Murray's finished script? Or that the Brody's legendary line about Quint's boat was improvised? Neither did I until I watched this new clip on YouTube of "The 25 Greatest Unscripted Scenes in Films."
The scenes are ranked "according to cultural impact and demonstration of improvisational skill." They're presented in numerical order, which frees me to completely disagree and tell you that the best of the bunch clearly is Bill Paxton's brilliant improv of "Game over, man" from Aliens. Check out the entire reel below:
So Robin Williams' contributions to Matt Damon and Ben Affleck's Oscar-winning screenplay for Good Will Hunting involved his dead wife's flatulence problem? You see, they totally didn't write that whole script on their own! We also love any excuse to post the incredible line-up scene from Bryan Singer's The Usual Suspects, with the five cool-as-hell actors cracking each other up with assorted readings of their memorable line of dialogue.
Can you think of any they left off this list? Would you move the order around? Which scenes surprised you because you didn't know they were unscripted? Let us know in the comments section.
Movie junkie. Infatuated with comic-book films. ReelBlend cohost. Resident dad. Extroverted introvert. Wants to see the Snyder Cut. Managing Director at CinemaBlend.
Your Daily Blend of Entertainment News
Thank you for signing up to CinemaBlend. You will receive a verification email shortly.
There was a problem. Please refresh the page and try again.