Video: Patrick Dempsey Is A Eunuch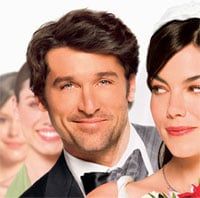 I've said it before, but it bears repeating: Patrick Dempsey is not a man. He's a eunuch. Look at that picture to your right. Gaze into his dead-eyed stare and Howdy Doody haircut. That's not a man you can respect. Hell, even Michelle Monaghan doesn't look like she respects him. This is not a man. This is a eunuch. Only a eunuch would take the roles he takes. He may not have breasts, but he's about as close as you can get to being a woman without actually wearing high-heels.
That may explain why women love him so much, after all men are generally jerks and women, because they're smarter than us, would probably be a lot happier if we were more like them. Enter Patrick Dempsey and his new romantic comedy Made of Honor. It will not be funny, you will hate it, but your wife will make you see it and you'd better be smiling when you walk out unless you want to get whacked upside the head.
So men, let's get prepared for the misery we're all going to have to endure this weekend, as a tradeoff in order to get her to let us see Iron Man. Below we have seven new clips from Made of Honor. Brace yourself, watch them, and practice plastering a smile on your face. Think about how much you love her, and then think about how watching this piece of crap will earn you a ticket to see Iron Man. Together we can get through this.
Here are the Made of Honor clips:
Your Daily Blend of Entertainment News