Video: Tila Tequila And Jennifer Aniston Go Between Two Ferns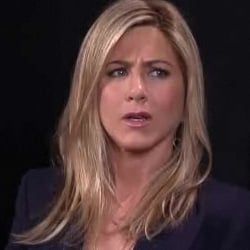 Because it's been so long since Friends went off the air and Jennifer Aniston has made some pretty terrible film role choices since then, there seems to be this perception that the actress simply isn't funny. It's an idea that isn't just untrue but also totally unfair, given how much genuinely good comedic work she's done even in movies that were way beneath her (The Switch being just one of many, many examples).
In this week's Just Go With It Aniston's talents are likely to be wasted yet again, but at least as she makes the publicity rounds she's taking part in something actually funny: Between Two Ferns with Zach Galifianakis. The pseudo-talk-show hosted at Funny or Die has brought us surreal joy in the past with guests like Jon Hamm and Conan O'Brien, and now it's Aniston's turn to sit in the awkward hot seat, made even more awkward by the fact that Tila Tequila was already sitting there. You never expected to see Rachel from Friends chat with Tila Tequila about reality TV, but you'll be so glad it happened once you watch it.
Really, I'm not sure why Tila Tequila had to be involved-- it's a funny joke, but kind of robs Aniston the opportunity to actually engage with the stone-faced Galifianakis, something I'm sure she could have pulled off well. All the same I'm just glad someone as popular as Galifianakis is recognizing Aniston as a comedic peer; even if Just Go With It turns out to be a disaster, hopefully it'll help us all get back to recognizing Aniston as a gifted comedian again. Check out the video below to get a glimpse of what I'm talking about.
Between Two Ferns with Zach Galifianakis: Tila Tequila from Between Two Ferns
Staff Writer at CinemaBlend
Your Daily Blend of Entertainment News
Thank you for signing up to CinemaBlend. You will receive a verification email shortly.
There was a problem. Please refresh the page and try again.