Vin Diesel Looks Bushy And Badass As The Last Witch Hunter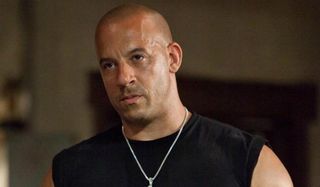 We've already seen a few looks at Vin Diesel suiting up for The Last Witch Hunter, but the Fast and Furious 7 star has shelled out an up-close profile shot for our enjoyment. We imagine this is what Diesel would look like if he grew his beard out for No Shave November.
Post by Vin Diesel.
The new image of Diesel as The Last Witch Hunter comes from the celeb's ever popular Facebook page. Normally it's known for enticing his large fan base with teases about his upcoming projects and loads of fan art. But amidst the Photoshops of Diesel standing against a bright blue backdrop with a giant elephant are occasional new looks at his films. While we've been seeing a ton of photos from Fast and Furious 7 recently, the actor has dropped this juicy tidbit online for his fans. It doesn't reveal much of anything in terms of other characters or settings, but it reaffirms the fact that we will be seeing this character battling the supernatural forces of evil across varying time periods.
In The Last Witch Hunter, Diesel plays, well, the last witch hunter. As an immortal fighter named Kaulder, he's been working to rid the world of these enchantresses for eons. In the modern world of New York City, he faces his greatest challenge as covens of witches conspire to unleash a plague on humanity. His only hope of stopping them is in teaming up with one of these magic wielders. And shenanigans ensue!
Post by Vin Diesel.
We haven't seen an actual trailer yet for this film, but Diesel has released a few more full-frontal looks at Kaulder. We've seen a lot of fantasy films of this caliber in the past, from Hansel & Gretel: Witch Hunters and Seventh Son to The Sorcerer's Apprentice. But this movie also seems to have a pinch of Highlander thrown in the mix. We're not going to completely count this film out yet, but we're also not getting our hopes up, either.
Accompanying Diesel on this quest will be Rose Leslie, Elijah Wood and Michael Caine, under the direction of The Crazies helmer Breck Eisner. The film is scheduled for release on October 23, a few months after Furious 7's April release and just in time for Halloween. As Diesel mentioned on Facebook, it's rare for an actor to produce "two movies with completely contrasting characters" that come out the same year. His range is endless.
Your Daily Blend of Entertainment News