Vin Diesel Teases Ang Lee For Kojak Director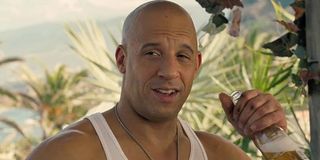 If you are somehow not one of the 51 million plus people who've liked Vin Diesel on Facebook, you should probably get on that. Aside from tweeting personal photos, heart-warming affirmations, and occasional set pics, Diesel occasionally answers questions from fans with his signature mix of openness and mystique. In one of these informal facebook Q&As, Diesel recently dropped some curious claims about the upcoming Kojak remake, suggesting Life of Pi helmer Ang Lee might helm:
Post by Vin Diesel.
Obviously, these three nouns aren't enough for us to say Lee is definitely on board for the project. It could be that he's in talks or just that he's on Fast and Furious star's wish list. But it's worth noting that Diesel has been known to drop real movie news on facebook before. Last January, he announced the trailer for Fast and Furious 6 would premiere at the Super Bowl. Long before he was announced as the voice of Groot in Guardians of the Galaxy, Diesel took to facebook to tell his fans he'd had a meeting with Marvel. So, could the cryptic message mean Lee is in being eyed for Kojak? Possibly.
Universal Pictures is producing the Kojak movie, inspired by the 1970s TV procedural that starred Telly Savalas as a lollipop loving New York City cop known for his catchphrase, "Who love ya, baby?" The studio behind the Fast and Furious franchise could well be willing to make Diesel happy by giving him some pull in this proposed project. And clearly he has a pick for the director's chair. But is this a helming gig Lee would want? Frankly, that's anyone's guess.
The Taiwan-born director began his career making touching dramas in his native land, like Pushing Hands, The Wedding Banquet and the Academy Award-nominated Eat Drink Man Woman. The last of these led his first entirely English-language production, the ambitious adaptation of Jane Austen's novel Sense and Sensibility. This won plenty of Oscar attention, as well as a screenwriting award for Emma Thompson. Then Lee followed it up with a chilling family drama set in 1973 Connecticut, The Ice Storm. And in 2000 he masterfully leapt into an entirely different genre with the awe-inspiring martial arts fantasy Crouching Tiger, Hidden Dragon. This led to him landing the showy superhero actioner Hulk, which he dizzyingly followed with the tender romance Brokeback Mountain. Then of course last year, he showed hacks what 3D could do with the breathtakingly beautiful Life of Pi.
All this is to say that Lee isn't a filmmaker hemmed in by genre or some established niche. It's entirely possible he could be intrigued by a Kojak movie. After all, it wouldn't be the first time he'd be making a movie of a popular TV series. Frankly, I'm pretty fascinated by the idea of Diesel and Lee teaming up for this property, which is being penned by Skyfall scribes Neal Purvis and Robert Wade. Here's hoping that the above is more than Diesel's hopes, because this Kojak could be a pretty sensational feature.
Staff writer at CinemaBlend.
Your Daily Blend of Entertainment News
Thank you for signing up to CinemaBlend. You will receive a verification email shortly.
There was a problem. Please refresh the page and try again.