Virgin Territory: Katey's First Time With All The President's Men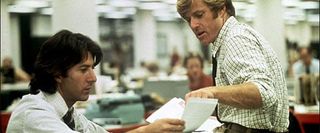 Katey's back with the newest installment in "Virgin Territory", her ongoing series of video blogs in which she discusses movies she's never seen before with one of that film's biggest fans. This time, she has her first experience with the 1976 political thriller All the President's Men. Ready to take down Nixon with her, is All the President's Men aficionado James Rocchi from MSN Movies.
If you haven't seen All the President's Men before, here's the perfect introduction to a classic that probably should be checked off on everyone's "seen it" list. If you have seen it, relive the genius of Dustin Hoffman and Robert Redford's performances all over again with Katey and James in the all new episode of "Virgin Territory embedded below.
"Virgin Territory" is part of Cinema Blend's new Kino Katey section, our way of giving back to all of you by providing interesting video, podcast, and opinion content without all the annoying advertising you're seeing on this page. Next time, feel free to jump to Kino Katey directly and browse through Katey's insights free and clear of that Kia Optima ad floating off to your right.
Or, from now on skip our website entirely and get Kino Katey injected directly into your life in the places where you already are. Let Katey put her thoughts in you by subscribing to Kino Katey's entire feed of video and audio podcasts using one of the options below:
SUBSCRIBE: Get the Kino Katey iPhone App | On Facebook | On Twitter | On YouTube | Podcast With iTunes