A Visit From Saint Nicolas Cage: A Cinema Blend Tribute To A Holiday Classic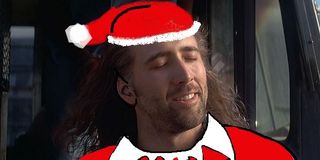 While some are leaving cookies and milk out for Santa Claus to imbibe come Christmas morning, the rest of us are leaving DVDs out for Santa to catch up on, since he must be pretty busy up at the North Pole, where Internet signals make streaming a hassle. Here are just a few of the titles that we've given the jolly guy over the years, from the Oscar winners to the cult classics to the unwatchable stinkers. We hope you enjoy reading it as much as we enjoyed putting it together.
A Visit From Saint Nicolas Cage
'Twas the Talladega Night before Christmas, when All That Jazz through the House II: The Second Story
Not a Creature From the Black Lagoon was stirring, not even a Great Mouse Detective;
The Silk Stockings were hung by the chimney with Daddy Day Care,
In Hope Floats that St. Nicolas Cage soon would be There's No Business Like Show Business;
The Children of the Corn were nestled all snug in their Bed of Roses;
While visions of Searching for Sugar Man-plums danced in their 8 Heads in a Duffel Bag;
And ma8mma in her 'kerchief, and I.Q. in my Captain Phillips,
Had just settled our The Man With Two Brains for a long Winter's Bone nap,
When Bringing Out the Dead on the lawn there arose such a Collateral,
I sprang from my Death Bed: The Bed That Eats to see What Women Want was the matter.
Away We Go to the Rear Window, I flew like a flash,
Tore Open Water the shutters and threw Up In the Air the sash.
The Moonstruck on the breast of the new-fallen Snowpiercer,
Gave a lustre of midday to The Safety of Objects below,
When What's Eating Gilbert Grape to my wondering Snake Eyes did appear,
I Was Born, But… a miniature sleigh and eight Tiny Furniture rein-deer,
With a Little Mermaid old driver so lively and The Quick and the Dead,
A.I. knew in a moment he must be St. Nic.
For a Few Dollars More rapid than eagles his coursers They Came From Within,
And he whistled, and shouted, and Bootycall-ed them by name:
"Now, Big Daddy! now, Charlie Bodell! now Johnny Blaze and H.I. McDunnough!
On, Ben Sanderson! on, Behmen von Bleibruck! on, Charlie Kaufman and Terence McDonagh!
To the Big Top Peewee of the porch! to the Top Gun of the wall!
Now Castaway! Blown Away! Spirited Away all!"
As Leaves of Grass that before the Wild at Heart hurricane fly,
When they Meet Joe Black with an obstacle, mount to the Skyfall;
So up to the Grindhouse-top the coursers they flew
With the sleigh full of Toys, and St. Nicolas Cage too—
And Then There Were None, in a twinkling, I heard on the Cat on a Hot Tin Roof
The prancing and pawing of each Little Miss Sunshine hoof.
As I drew in my Head of State, and was turning Around the World in Eighty Days,
Best Man Down the chimney St. Nicolas Cage came with a Bound.
He was Dressed to Kill all in fur, from his head to his Foot Fist Way,
And his Plain Clothes were all tarnished with Angela's Ashes and soot;
A bundle of Demonic Toys he had flung on his Back to the Future,
And he looked Like Crazy a peddler just opening his Six Pack.
His 1,000 Eyes of Dr. Mabuse—how they twinkled! his dimples, how Merry Widow !
His cheeks were Like Mike roses, his nose like a Cherry 2000!
His droll Little Giants mouth was drawn Up in Smoke like a Bowfinger,
And the beard On Golden Pond his chin was as White Men Can't Jump as the Dead Snow;
The stump of a pipe he held Robin Hood: Men in Tights in his Teeth,
And the Holy Smoke, it encircled his Bullet to the Head like a wreath;
He had a broad Face/Off and a little 12 Rounds belly
She's All That shook when he laughed, like a Monty Python Live at the Hollywood Bowl full of jelly.
He was chubby and plump, a right jolly Oldboy Elf,
And I laughed when I Saw 3D: The Final Chapter him, in spite of Me, Myself and Irene;
A wink of his Eyes Wide Shut and a Twixt of his head
Soon gave Stand by Me to Knowing I had nothing to Dread;
He spoke not a Words and Music, but went The Straight Story to his Dirty Work,
And filled All About Eve the stockings; then turned with The Jerk,
And laying his 5,000 Fingers of Dr. T. aside of his Spy With a Cold Nose,
And giving a nod, Up the chimney he Rosemary's Baby;
He sprang To the Wonder his sleigh, to his Mystery Team gave a whistle,
And Flushed Away they all flew like the Black Hawk Down of a thistle.
But I Heart Huckabees heard him exclaim, ere he drove Out of Sight— "Happy Gilmore to all, and to all a Long Kiss Goodnight!"
Assistant Managing Editor
Nick is a Cajun Country native, and is often asked why he doesn't sound like that's the case. His love for his wife and daughters is almost equaled by his love of gasp-for-breath laughter and gasp-for-breath horror. A lifetime spent in the vicinity of a television screen led to his current dream job, as well as his knowledge of too many TV themes and ad jingles.
Your Daily Blend of Entertainment News
Thank you for signing up to CinemaBlend. You will receive a verification email shortly.
There was a problem. Please refresh the page and try again.