The Wachowskis Promise Jupiter Ascending Will Be A Sci-Fi Space Opera Unlike Any You've Seen Before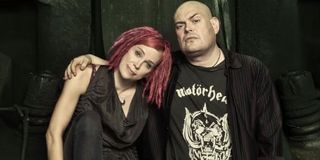 When it comes to the films of Andy and Lana Wachowski, it's virtually impossible to guess what they might come up with next. In 1999 they unleashed their groundbreaking vision for the future of science-fiction film with the smash hitThe Matrix. In 2012, they transformed David Mitchell's dense novel Cloud Atlas into an ambitious and vivid film despite the recurring refrain from naysayers that the book was "unfilmable." As follow-up to this incredible undertaking, the Wachowskis are working on Jupiter Ascending, which Lana has recently described to MSN as "a science-fiction space opera."
Having recently wrapped the production that stars Mila Kunis and Channing Tatum, the Wachowski siblings have moved into postproduction on Jupiter Ascending. The American filmmakers stepped away from overseeing its edit and visual effects for a night to attend an Australians in Film awards dinner. The two are notoriously press shy, but they did drop some details about the their latest project. For one thing, Andy notes that Jupiter Ascending's production went much smoother than the multi-faceted Cloud Atlas, which notably had its cast playing multiple characters within the film. However, he confesses the visual effects for Jupiter Ascending are "way more complicated."
"We seem not to be very good at making small things," Lana said. "We keep saying 'Let's go make a small movie.' But then they always end up being enormously complex. We want to somehow always find something that is different or that no one has tried."
This drive has served their reputation well among fans, even when it doesn't necessarily pay off at the box office. For instance, Cloud Atlas has been estimated to cost upwards of $102 million to make, and earned only $130 million worldwide, making it a total flop at the box office. Its predecessor Speed Racer did even worse, making $93 million worldwide off a $120 million budget. Yet Lana seems to shrug off these losses, instead focusing on the appreciation they've received from those who do love these unusual features. "People come up to us and just break into tears talking about (Cloud Atlas)," Lana told reporters. "Even Speed Racer, we get people that come up and say it was their favorite movie of all time. We've been very lucky that way. We have great fans. ... And we keep trying to keep surprising them."
As for what surprises the Wachowski siblings have in store for Jupiter Ascending, Lana played it coy, saying:
Written and directed by Andy and Lana Wachowski, Jupiter Ascending centers on an impoverished maid named Jupiter Jones (Kunis). As a human, she is considered near the bottom of the universe's international ladder, and yet the Queen of the Universe sees her as such a threat that she sends a genetically engineered bounty hunter (Tatum) to track Jupiter down, and kill her. Douglas Booth, Sean Bean, Terry Gilliam, Eddie Redmayne, James D'Arcy, and Doona Bae will co-star.
Jupiter Ascending is expected to hit theaters on July 25th, 2014.
Staff writer at CinemaBlend.
Your Daily Blend of Entertainment News
Thank you for signing up to CinemaBlend. You will receive a verification email shortly.
There was a problem. Please refresh the page and try again.