A Quarter Of Cloud Atlas Is Chopped By Chinese Censors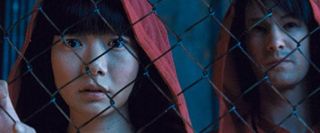 For films that struggled in their American release, a strong showing overseas is required to not be deemed a major flop. With Cloud Atlas receiving mixed reviews and causing a stir for its unconventional casting, the ambitious drama that is estimated to have a budget of upwards $100 million made only $27 million in the U.S. It has since opened in foreign markets in Europe, South America, the Middle East, Australia and Russia. But so far has only earned $44 million. But hope is not lost, as releases will continue through March. However, the film's Chinese debut has raised alarm with news that much of the movie has been cut out because of the country's censorship demands.
THR reports the version of Cloud Atlas that debuted in Beijing last night clocked in at 130 minutes, meaning roughly forty minutes had been cut from the version that has played in theaters worldwide. Basically, about ¼ of the film has been completely excised. Worse yet, the film's directors (Lana Wachowski, Andy Wachowski, and Tom Tykwer) were reportedly not involved with this edit. Instead, Dreams of the Dragon Pictures, the international production's Chinese co-producers, were entrusted with making the movie suitable for screening in the restrictive territory.
Newspapers from China report that sexual content including scenes of "passionate" lovemaking was cut while scenes containing graphic gun violence and a character's throat being slit were left intact. And considering that same-sex romance is still quite taboo in China, it is speculated that much of the Robert Frobisher plotline, which often referred to his love affair with another man, was chopped.
Dreams of the Dragon Pictures CEO Qiu Huashun admits the changes were made so that the film would pass the strict censorship regulations of the State Administration of Radio, Film and Television. However, he also tried to push the idea that the movie was tailored to appeal more to Chinese audiences' sensibilities, adding:
News like this is eye opening, revealing what a different set of rules filmmakers play by in America. Here, a movie might cause outrage—as Django Unchained has on several counts—but it can still get made, where some nations would shut down a production that could make their country look bad in any light. Alternately, some nations' governments devotedly censor what media their people can access, as we see here. While I have railed against the tyranny of the MPAA (and will continue to as long as their rulings are ambiguous and irrational), days like this make me grateful they are the worst censorship filmmakers face in the States.
Staff writer at CinemaBlend.
Your Daily Blend of Entertainment News
Thank you for signing up to CinemaBlend. You will receive a verification email shortly.
There was a problem. Please refresh the page and try again.