Doona Bae Reteams With The Wachowski Siblings For Jupiter Ascending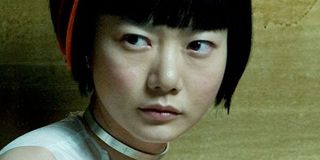 South Korean actress Doona Bae has been steadily stepping into the international spotlight. An earlier collaborator with writer-director Bong Joon-ho, she starred in his first feature film Barking Dogs Never Bite back in 2000. Later, the pair reteamed for his breakout monster movie The Host, and in between, she snagged a memorable role in Park Chan-wook's Vengeance Trilogy as the anarchist girlfriend in Sympathy for Mr. Vengeance. These appearances earned Bae stardom in her native land as well as the notice of foreign cinephiles who had latched onto South Korea's emerging cinema. But last year brought her biggest international role to date, when Bae appeared alongside such major Hollywood stars as Tom Hanks and Halle Berry in Andy and Lana Wachowski's sprawling science-fiction epic Cloud Atlas.
Like much of the film's cast, Bae played a handful of roles, but most notably, she portrayed reluctant revolutionary Sonmi-451, impressively holding her own against —and at times outshining—actors with much bigger reputations. So it should be no surprise to hear the Wachowskis wanted her for their latest venture Jupiter Ascending. Yahoo reports that when speaking to the fashion magazine High Cut, Bae revealed she's reunited with the Wachowski's for their new sci-fi adventure:
Written and directed by the Wachowski siblings, Jupiter Ascending centers on a Russian maid named Jupiter Jones (Mila Kunis), who finds her world thrown into spin when a genetically engineered bounty hunter (Channing Tatum) shows up to terminate her at the request of the Queen of the Universe. While we know Sean Bean, Eddie Redmayne, Douglas Booth, and Tuppence Middleton have also been cast, details on who might play this evil Queen have not been released. Could it be Bae? It'd be fun to see her pull such a 180 after her saintly portrayal in Cloud Atlas. But as secretive as the Wachowskis tend to be, we don't expect to hear much more on this until closer to the film's 2014 release.
Jupiter Ascending is now in production and is slated to open in the US on July 25th, 2014.
Your Daily Blend of Entertainment News
Staff writer at CinemaBlend.