Wait, Jennifer Aniston Wears What Around Her Neck In Horrible Bosses 2?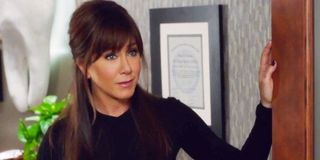 Jennifer Aniston has truly left behind her girl next-door image over the last few years with her cinematic choices. And thanks to what she wore around her neck in Horrible Bosses 2 there is now no going back for her.
Jennifer Aniston's Dr. Julia Harris is quite the sexual deviant in the 2011 original and it sounds as if she has only gotten worse in Horrible Bosses 2, which will hit cinemas on November 26. In fact her provocative ways have reached such a devious extent that she has how now revealed to E! Online that she wears a cockring as a piece of jewelry in the risqué sequel. The former Friends actress made the revelation after it was pointed out that Dr. Julia Harris appeared to have been inspired by Fifty Shades Of Grey in the comedy. This is because she is seen sporting a "leathery, strappy bra" as the character. Jennifer Aniston then went on to reveal that only one of the film's leading trifecta of stars noticed that she was wearing the sex toy though.
Yes, yes it is.
So who do you think out of Jason Sudeikis, Charlie Day and Jason Bateman would have immediately recognized the cockring? My money would have been on the It's Always Sunny In Philadelphia star. But it turns out that Jason Sudeikis was the man who found himself drawn to it. I'm just happy that it wasn't Jason Bateman. That would have just ruined my childhood memories of him as David Hogan in The Hogan Family. You can see a sneak peak of Jennifer Aniston at her seductive best towards the end of the Horrible Bosses 2 trailer.
Meanwhile Jennifer Aniston couldn't continue her nasty streak during the interview. When she was asked which of the male leads she would fuck, marry or kill, all she could muster was that she would just kill Jason Sudeikis. Which still seems pretty harsh. However she later admitted that she would want the entire trio to attend her impending wedding to Justin Theroux.
There's no denying that fact that Jennifer Aniston has undergone quite the transformation thanks to her appearances in raunchy comedies over the last few years. Not only has she played a sex-addict in Horrible Bosses and Horrible Bosses 2, she also portrayed a stripper in We're The Millers too. But it's clear that mainstream audiences have responded well to her raunchier roles as they have each gone on to gross hundreds of millions of dollars each. It seems as though Rachel Green is now officially dead.
Your Daily Blend of Entertainment News
Thank you for signing up to CinemaBlend. You will receive a verification email shortly.
There was a problem. Please refresh the page and try again.