Wait, Ridley Scott Wants More Than One Blade Runner Sequel?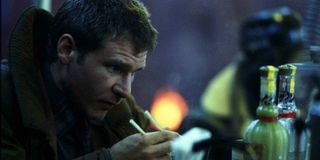 For a man who is 77-years-young, Sir Ridley Scott sure does plan on making quite a lot of feature films in the twilight of his career. Fresh off revealing that Prometheus will have not one, not two, but three sequels, Ridley Scott has now confirmed that he wants to do the same with Blade Runner.
Ridley Scott was in rather bullish form during his recent interview with Yahoo, insisting that he doesn't see an end in sight for his work, and that he wants to build upon arguably his finest masterpiece. Scott was asked if he'd like to do multiple Blade Runner sequels, similar to what he has planned for Prometheus, to which he then emphatically responded:
While Sir Ridley Scott won't actually be directing Blade Runner 2, that honor is reserved for Sicario's Denis Villeneuve, why should he even consider taking a siesta in a producing capacity when he clearly has so many ideas bouncing around for Blade Runner?
My only worry is that those who are overseeing the sequel to the 1982 sci-fi classic are thinking a little bit too far ahead, and should just concentrate on making the follow-up as polished and perfect as they possibly can before thinking about where else they can take the possible third, fourth and fifth installments to the franchise.
I mean, let's not forget that the original Blade Runner was released all the way back in 1982, and even then it was a flop. Sure, its reputation has risen infinitely since, and it's rightly regarded as one of the most gorgeously atmospheric and beguiling sci-fi films ever created. But it's far from certain that its proposed sequel will make enough money (or raise enough interest) to warrant further adventures.
The original Blade Runner was set in a dystopian Los Angeles in November 2019. It starred Harrison Ford as Rick Deckard, a Blade Runner who has to hunt down genetically engineered replicants that are indistinguishable from humans and are only produced to conduct dangerous jobs on different planets. Deckard is forced to traipse across the dimly-lit Los Angeles on the hunt for a group of replicants hiding in the city.
A Blade Runner sequel had been touted for years. But it wasn't until earlier this year that it was confirmed the project is moving ahead, and it was revealed that the film will be set decades after the original. Production is due to begin in the middle of next year, with Villeneuve directing, Ryan Gosling linked to star, Ford set to return in some capacity, and, most importantly of all, the always sublime Roger Deakins on board as cinematographer. The latter news will especially delight cinephiles.
Your Daily Blend of Entertainment News