Why Blade Runner 2 Will Look Different From The Original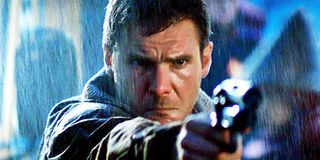 The visual effects and cinematography of Blade Runner are part of the legend. The Ridley Scott film was nominated for two Oscars in 1983, including art direction and visual effects. With a sequel in the works from director Denis Villeneuve, it will continue the legacy that began with Harrison Ford. But according to cinematographer Roger Deakins, the sequel also has to stand by itself.
Deakins was asked about Blade Runner 2 during an interview with Collider. Speaking from an aesthetic standpoint, he called the visual development an "organic process" and not something that just comes to you. That said, he did stress a different look for the sequel. He said:
This is the scene to which Deakins is referring.
In the original Blade Runner, Ford played the lead role of Rick Deckard, a burnt-out "Blade Runner" who agrees to hunt down a group of escaped A.I. "replicants," rogue bioengineered robots, hiding in this futuristic Los Angeles. The scene in which Hauer's Roy Batty, a replicant, saves Deckard and delivers a speech called "Tears in the Rain" is arguably the film's most famous moment, and one of the more visually striking, as well.
When it comes to yet another sequel treatment of a classic film, Jurassic World is an example of the pitfalls that come with trying to top a piece of cinematic history. While the film became the third highest-grossing film of all time, the overt CGI used to bring many of these dinosaurs to life was no match for the originality and unique flourishes to the practical effects of Jurassic Park. The same issue, we imagine, may be coming for Blade Runner 2. The original utilized matte paintings, models, multipass exposures, motion-controlled cameras, and various lighting and re-recording techniques. Deakins said he'll know more about the look of the sequel when he discusses it with the crew, but it's hard to imagine a modern sci-fi film of this nature that doesn't rely heavily on CG.
Ridley Scott worked on the screenplay for the still-untitled Blade Runner 2 with Hampton Fancher and Michael Green. Harrison Ford will return for the long-awaited sequel, while Ryan Gosling of The Big Short will headline. Plot details and a release date have not been announced at this time, but you can bet we'll be keeping an eye on this one.
Your Daily Blend of Entertainment News
Thank you for signing up to CinemaBlend. You will receive a verification email shortly.
There was a problem. Please refresh the page and try again.